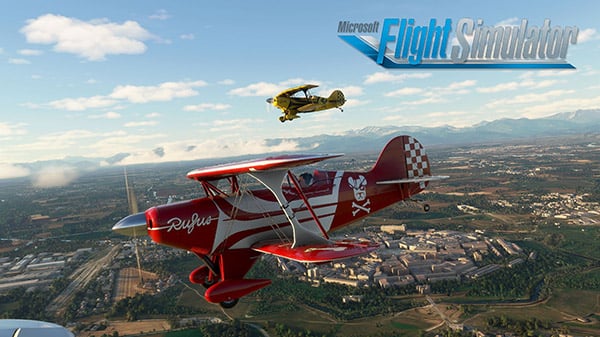 The Xbox Series version of Microsoft Flight Simulator will launch on July 27, publisher Microsoft and developer Asobo Studio announced. It will also be available via Xbox Game Pass.
Microsoft Flight Simulator first launched for PC via Steam and the Microsoft Store, as well as Xbox Game Pass for PC on August 18.
Additionally, a free Top Gun: Maverick expansion in partnership with Paramount Pictures to celebrate the release of the Top Gun: Maverick will launch alongside the film on November 19.
Here is an overview of the game, via Microsoft:
About

From light planes to wide-body jets, fly highly detailed authentic aircraft in the next generation of Microsoft Flight Simulator. Any time of year—day or night—test your piloting skills against real-time atmospheric simulation and live weather in a dynamic, living world. The sky is calling.

Available on Xbox Series X|S – Jump right into experiencing the thrill of flight with the most accessible entry to date that showcases the power of Xbox Series X|S.
Explore the World – Travel the world in amazing detail with over 37 thousand airports, two million cities, 1.5 billion buildings, real mountains, roads, trees, rivers, animals, traffic, and more.
Earn Your Wings – Hone your pilot skills in a variety of aircraft—from lightweight planes to commercial jets—with an experience that scales to your level.
Test Your Skill – Fly day or night with live real-time weather including accurate cloud coverage and cloud layers, wind speed and direction, temperature, humidity, rain, and lightning.

Key Features

Immerse yourself in the vast and beautiful world that is our planet with more than 37 thousand airports, 1.5 billion buildings, 2 trillion trees, mountains, roads, rivers and more.
Earth is vibrant and ever-changing, and so is the world of Microsoft Flight Simulator which includes live traffic, real-time weather, and animals.
Fly in an ever-evolving digital world, as free, monthly updates continually enrich the simulation. World Updates graphically enhance specific regions of the planet while Simulation Updates deepen the authenticity of the flight experience.
Hone your skills as a pilot in a variety of aircraft from light planes to commercial jets with comprehensive flight models. Every aircraft includes highly detailed and accurate cockpits with realistic instrumentation.
The new weather engine enables users to switch on the live weather mode to experience real-time weather, including accurate cloud cover and cloud layers, wind speed and direction, temperature, humidity, rain and more.
From pro to beginner, scale your level from full manual piloting to full assist with interactive and highlighted instrument guidance and checklists.
Experience flight any time of day, or any day of the year, allowing for night VFR, visual flight rules, and navigation.
A state-of-the-art physics engine with over 1,000 control surfaces per plane allows for a highly accurate flight model for each aircraft.
No pilot gets left behind regardless of skill level, with all-new tutorials, enhanced landing gear, Discovery Flights and more. Anyone can experience the thrill of flight!
Experience Microsoft Flight Simulator with friends and family on whichever platform you prefer with the introduction of cross-play and cross-save on all available platforms. Online multiplayer on Xbox console requires Xbox Game Pass Ultimate or Xbox Live Gold subscription (sold separately).
Buy the digital version of Microsoft Flight Simulator, and experience the simulator on Xbox Series X|S and Windows 10 PCs at no additional cost.

Pricing

$59.99 USD for all available platforms; $89.99 USD for Deluxe Edition; $119.99 Premium Deluxe Edition for all available platforms.
Watch a new trailer below. View a new set of screenshots at the gallery.