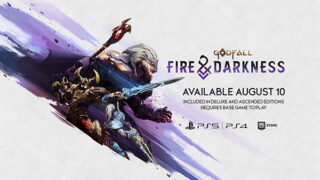 Gearbox Publishing and developer Counterplay Games will release Godfall for PlayStation 4 alongside the paid expansion "Fire & Darkness" and free update "Lightbringer" on August 10, the companies announced.
Here is an overview of the expansion and update, via Gearbox Publishing:
Fire & Darkness ($19.99)

Enter the Fire Realm – Step foot into Godfall's largest Realm yet to extinguish new threats and claim extravagant loot.
New Enemies – Challenge Moirax and the Flameblood Tribe, who add several bosses and nearly a dozen new enemies to Godfall.
New Challenges and Rewards – Explore the obsidian peaks and azure magma rivers of the Fire Realm to claim over 20 new Valorplate skins and equip fearsome looks.

Lightbringer (free)

New Lightbringer Mode – Race against the darkness to close three Tears before facing down throngs of enemies in a massive final battle.
Endgame Matchmaking Beta – Match with other endgame players to take on the Ascended Tower of Trials and new Lightbringer mode.
New Loot Type: Cursed Items – Cursed Items grant players a massive boon, if players are able to lift the Curse and unlock the item's full potential.
Godfall is currently available for PlayStation 5 and PC via the Epic Games Store.
Watch a new trailer below. View a new set of screenshots at the gallery.