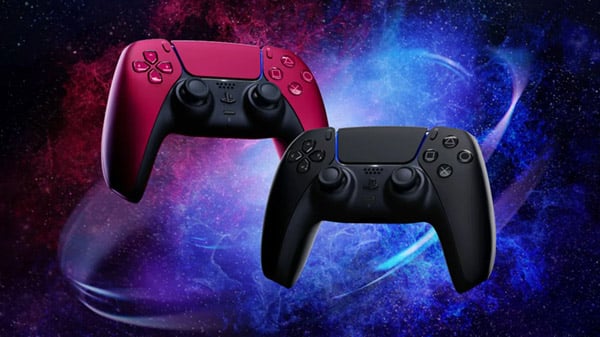 Sony Interactive Entertainment has announced the "Midnight Black" and "Cosmic Red" DualSense wireless controller colors. Both will launch at retailers worldwide in June.
"Our goal is to always find designs that will surprise and entice our fans, and these new colors are the result of an extensive selection process," said the DualSense wireless controller design team's Leo Cardoso. "We wanted the new controller colors to complement each other, as well as the original DualSense wireless controller and PlayStation 5 console, so we designed the colors around the theme of 'galaxy' as it felt like a natural progression from the original PS5 and accessories designs."
The design team's Satoshi Aoyagi added, "Both Midnight Black and Cosmic Red feature a subtle blue hue, that produces unique shades of red and black. A blue hue is also present in the original DualSense wireless controller colors, so all three colors complement each other nicely. The controller's button colors and detailing has been tailored to complement the new colors as well."
Later today, Sony Interactive Entertainment will share insights on how developers are taking advantage of the DualSense wireless controller's unique features on the PlayStation Blog, including a deep dive into Returnal's haptic feedback and adaptive trigger support, as well as insights from other teams working on PlayStation 5 titles.
Update 9:30 a.m.: Read the Returnal deep dive here.
Update 11:00 a.m.: Read the rest of the DualSense wireless controller developer insights on Ratchet & Clank: Rift Apart, Subnautica: Below Zero, Ghostwire: Tokyo, Life is Strange: True Colors, Scarlet Nexus, Mobile Suit Gundam: Battle Operation 2, and Kena: Bridge of Spirits here.
Watch a trailer for the new colors below.