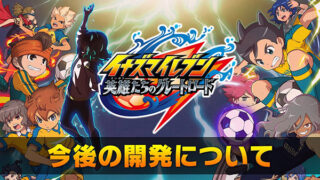 Level-5 has released an Inazuma Eleven: Great Road of Heroes development update video featuring company CEO Level-5, who shows off the latest footage of the game running on Switch.
Hino apologized for the game's long, ongoing development, but said that he wants to reward fans with a perfect game. Currently, it is moving forward with plans for a 2023 release in Japan.
Level-5 is aiming to create gameplay systems reminiscent of the original Inazuma Eleven series (the Endou Mamoru games), which would allow even players who are not good at soccer games to enjoy Inazuma Eleven: Great Road of Heroes.
The game is being developed as a "culmination" of the Inazuma Eleven series, with the idea of making it the series' defining entry.
Level-5 wants to create something players can enjoy both solo and online. Solo play will follow the series' conventional compelling story, gathering of players, and team building, while for online they hope to strengthen both competitive and cooperative play.
Inazuma Eleven: Great Road of Heroes will be available for PlayStation 4, Switch, iOS, and Android.
Watch the development update video below. According to Hino, the final version of the game will be incomparable to the work-in-progress footage.