Raiden IV x MIKADO remix coming west
Pre-orders now available on Amazon.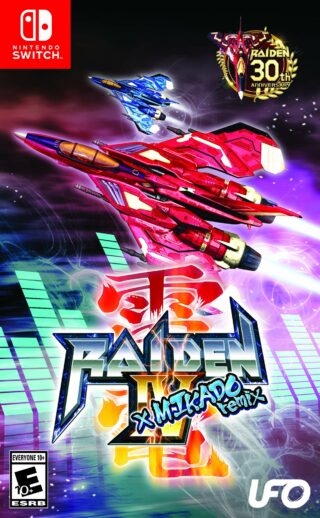 UFO Interactive will release Raiden IV x MIKADO remix for Switch in the west on May 6 for $29.99, according to an Amazon listing. A password-protected website is also available.
Since the news comes from a retailer listing, it is currently unknown if the release date is final or placeholder. Games tend to release on Tuesdays or Fridays in North America, but May 6 is a Thursday.
In Japan, Raiden IV x MIKADO remix is due out for Switch on April 22.
Here is an overview of the game, via Amazon:
About

Raiden IV, the popular shoot 'em up arcade and Console game, debuts on Nintendo Switch with remixed background music by a superb lineup of artists produced by Game Center Mikado. Instill fear in your enemies with devastating attacks and earn the acclaimed title of master Ace!

Key Features

New remixed background music produced by Game Center Mikado (exclusively on Nintendo Switch).
A full suite of game modes including Arcade Mode, Overkill Mode, and more.
Supports vertical screen play to recreate the full arcade experience.
Global leaderboard to track the best aces in the world.
Supports one to two players (offline).
Read more about the game here.