Fantasy Tavern Sextet Vol. 3: Postlude Days for Switch launches March 18
The final chapter in the romance visual novel series.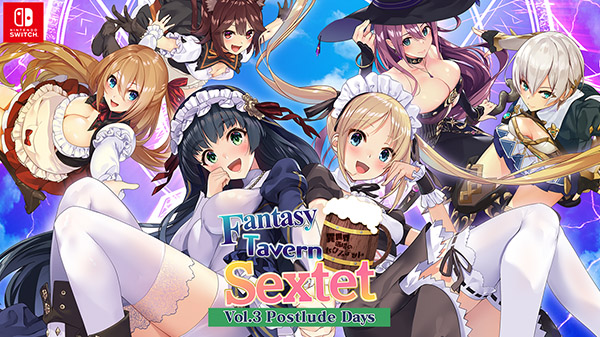 Fantasy Tavern Sextet Vol. 3: Postlude Days, the third and final volume in qureate's romance visual novel series, will launch for Switch via the Nintendo eShop on March 18 worldwide for $7.99 / 800 yen. It will support English, Japanese, and Chinese (Traditional and Simplified) language options.
Here is an overview of the game's story, via its official website:
Much time has passed since our hero, the chef at an Akihabara maid cafe, got transported to another world. One day, a lone girl storms into the tavern, crying, "I'm here to inspect hostile activities!"

The girl in question is Anzu, the top-ranking maid from the maid cafe our hero used to work for in his home world. It is revealed that Anzu arrived to the other world after our hero, and has been working for the Stray Sheep's rival tavern. Following her unexpected arrival, Anzu and Lupine talk things out, which for some reason leads to Anzu starting work at the Stray Sheep?!

In the midst of this chaos surrounding our protagonist, Plumeria joins the fight for our hero's affections, escalating the girls' battle to win his heart even further!

Our hero's daily life in a fantasy world at the mercy of six otherworldly beauties will forever be changed when a certain hero's vassal pays the tavern a visit…

The harem antics get even crazier when a maid and a priestess join the fray! Even a certain legendary hero makes an appearance! The harem rom-com set in a fantasy tavern welcomes its final chapter!
Watch a trailer below.
English
Japanese
Traditional Chinese
Simplified Chinese