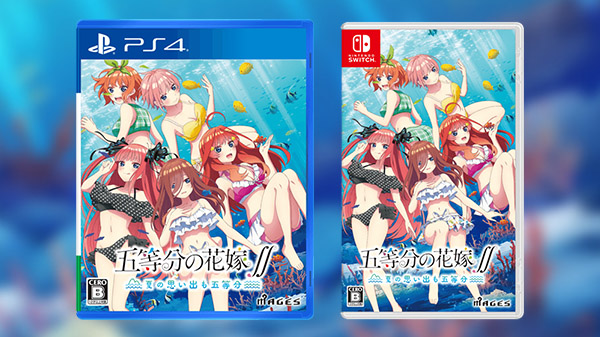 MAGES. has announced "heart-pounding deserted island life with quintuplets adventure" game Gotoubun no Hanayome ∬: Natsu no Omoide mo Gotoubun (The Quintessential Quintuplets ∬: Summer Memories Also Come in Five) for PlayStation 4 and Switch. It will launch on March 25, 2021 in Japan for 7,800 yen at retail and 7,000 yen via download. A 10,800 yen limited edition including a five-disc drama CD will also be available.
The game will follow a completely original story in which you will spend your days with the Nakano quintuplets on a deserted island.
Here is an overview of the cast:
Main Cast

Futaro Uesugi (voiced by Yoshitsugu Matsuoka)
Ichika Nakano (voiced by Kana Hanazawa)
Nino Nakano (voiced by Ayana Taketatsu)
Miku Nakano (voiced by Miku Itou)
Yotsuba Nakano (voiced by Ayane Sakura)
Itsuki Nakano (voiced by Inori Minase)

Game Original Theme Song

Opening: "Minami Kaze"
Ending: "Summer Days"
Singer: Nakanoke no Itsutsugo
Watch the announcement trailer below. Visit the official website here.
Update 11:20 a.m.: Pre-orders have gone up at various Japanese retailers such as 7net, Amazon, Biccamera, and Yodobashi, which provide the following description:
About

The mega-hit romantic comedy manga The Quintessential Quintuplets has sold over 13 million copies and has been adapted into a TV anime series, the first season of which aired from January to March 2019 to high acclaim. Now, the popular series is being adapted into a console game! The second season of the TV anime, The Quintessential Quintuplets ∬, will air from January to March 2021, making now the perfect time to release a game.

Key Features

A Heart-Pounding Deserted Island Life – Summer vacation. Futaro and his younger sister Raiha are invited to the quintuplets' private island. But after an unexpected storm hits, what should have been a two-nights, three-days vacation with the quintuplets turned into a two-weeks deserted island life survival!? What will become of this heart-pounding deserted island life with the quintuplets…!?
A Five Girls Tutoring Adventure Game – The Quintessential Quintuplets ∬: Summer Memories Also Come in Five is an adventure game in which the player takes on the role of protagonist Futaro as he simultaneously tutors the five sisters. There are endings for each of the five sisters, and 14 endings in total. The game is fully voiced by the heroines' voice cast in great volume.
Newly Drawn Illustrations and an Original Story – All visuals are newly drawn illustrations. The player can experience a deserted island life with the quintuplets, Futaro, and Futaro's younger sister Raiha. Look forward to game original swimsuit outfits, wedding gowns, and additional content set to debut in the game that fans will not want to miss.