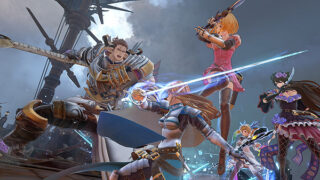 Cygames has released a direct-feed version of the Granblue Fantasy: Relink "Mega Fleet Battle" in-development gameplay first shown at Granblue Fantasy Fes 2020 on December 12, as well as a new set of screenshots.
Here is an overview of the footage, via Cygames:
This gameplay walkthrough video was taken at Granblue Fantasy Fes 2020 and contains commentary by the game's director. Witness this epic battle for the first time! Soaring through an ocean of clouds, an airship clashes with a fleet lead by a mysterious enemy general. Don't miss some of your favorite Granblue characters, like Katalina, Io, and Rosetta, engage in beautifully powerful co-op battle action, as well as an introduction to the party and equipment systems!

"The world of vast blue skies… is about to expand."

Cygames is bringing a true action RPG from smartphones to PlayStation 4 and PlayStation 5.

Don't miss this brand-new story filled with the characters and action you love from Granblue Fantasy.
Granblue Fantasy: Relink is due out for PlayStation 5 and PlayStation 4 in 2022.
Watch the footage below (English and Japanese subtitles available). View the screenshots at the gallery. Visit the official website here.