Tabe-O-Ja launches November 28 in Japan
Available in standard and "Mini Size" editions.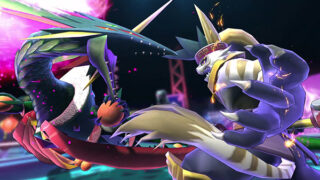 Cooking action battle game Tabe-O-Ja will launch for Switch on November 28, publisher Bandai Toys announced.
The game will be available in the following two editions:
Tabe-O-Ja Full Set (5,940 yen)

Game download code (x1)
Ouja Gear (x1) – The item possessed by the protagonist in the game. It is equipped to the Switch Joy-Con like a gadget.
Extract Potion Pepper Ripper (x1) – This is loaded into the Ouja Gear.
God Recipe (x2) – These are plastic card-like items that can be linked to the game to summon Tabe-Gami.
God Recipe Lite (x4)

Early purchases include a "Tabe-O-Ja Five-Star Guide" by CoroCoro Comic, which features everything from basic game information to gameplay walkthroughs.

Tabe-O-Ja Mini Size (550 yen)

Game download code (x1)
God Recipe (x1)
God Recipe Lite (x2)
Here is an overview of the game, via our previous coverage:
About

Tabe-O-Ja is a cooking action game in which you can enjoy strategic battles. As the special chef "Tabe-O-Ja," you will cook various dishes including Japanese, western, Chinese, and more with Joy-Con cooking actions, and summon the "Tabe-Gami" that dwell within each tasty dish. With your summoned Tabe-Gami, you can form your own original team, battle against rival chefs and their Tabe-Gami, and challenge the showdown of the cooking world: "World's Strongest Dish."

Joy-Con Cooking Actions and Tabe-Gami Battles

Tabe-Gami dwell within tasty dishes. You can summon these Tabe-Gami by using the Joy-Cons as the game indicates to complete your dish.

Joy-Con cooking actions have various patterns based on the dish, including "stir-fry," "stacking ingredients," "simmer," and more. For example: stir-frying with good rhythm or stacking ingredients without them falling.

By completing a dish, you can summon a Tabe-Gami.

Each Tabe-Gami is themed after a dish, and their fighting ability differs depending on the performance of your cooking actions and the Tabe-Gami.

At launch, Tabe-O-Ja will feature a charming lineup of over 69 unique characters.

Furthermore, you can form a team with your summoned Tabe-Gami and battle against rival chefs.

You can summon Tabe-Gami onto the battlefield by selecting the Tabe-Gami you want to summon and performing the Joy-Con cooking actions. In battle, Tabe-Gami can use special moves by meeting certain conditions. The battle is decided when the opponent's kitchen is destroyed.
Watch a new set of trailers below.
Fourth Trailer
Live-Action Trailer