Squad reinforcement game Vaster Claws III: Dragon Slayer of the God World ~Offline Ver. coming to PS4 on September 25 in Japan
Raise your soldiers' levels, strengthen their weapons, and balance their traits.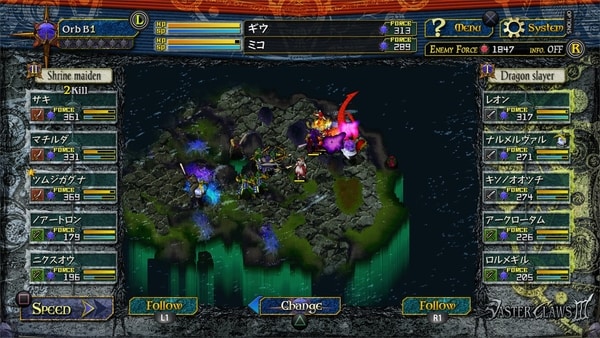 Mediascape will release StudioGIW-developed squad reinforcement game Vaster Claws III: Dragon Slayer of the God World ~Offline Ver. for PlayStation 4 via the PlayStation Store on September 25 for 3,220 yen, the publisher announced.
Vaster Claws III: Dragon Slayer of the God World first launched for PC via Steam and Android via Google Play on February 28. It supports English and Japanese language options.
In the PlayStation 4 version, it is possible for two players to split the job between the "Dragon Slayer" and "Shrine Maiden" by using two controllers. And the "Vaster Claws III: Special Pack," which launched for the PC version (Steam page) on March 19, will also be available for the PlayStation 4 version at launch.
Here is an overview of the PC version, via its Steam page:
About

Gameplay focuses on raising your soldiers' levels, strengthening their weapons, and balancing their unique traits and skills to create the strongest squad possible.

Lead your ultimate squad deeper into the realm of evil, or try it skills online against other players' squads and move your way up the online ranks.

Story

Two beings of the "human world" hold holy power: the "Shrine Maiden" holds "The Holy Power of Transition," and the "Dragon Slayer" holds "The Holy Power of Dragonslaying." These two souls resonate, and the soldiers of the "human world" assemble to face the "evil dragons of the God World."

You must become the "Dragon Slayer" or "Shrine Maiden" to defeat the "Lord Vaster Dragon" and his monsters to free the "God World" from his terrible power.
Enter the belly of "the dragon" and release the "spirit hoard" of Gods and men that are trapped within.

The Game Engine

"Lixel 2," our in-house developed engine, uses CPU commands rather than GPU or hardware implementation to render each pixel individually. These efforts have resulted in low-power, low-temperature graphics rendering. Lixel 2 excels at control at the pixel-level, and at this level, rendering is much faster than in engines that rely on GPU or hardware.

(This game uses a legendary skill known as "vram[n]=color," handed down for generations, for all graphic rendering!)

An Artistic Game With Handcrafted Details

In addition to wonderful graphics, every facet of this game was designed and constructed with care to create gameplay with a feeling of "zero seconds loading time." Players will enjoy a stress-free, immersive experience.

A Quest for Timeless Entertainment

We believe that truly interesting games will be just as fun to play again 10 or 20 years later. Our small team's dream is to create an awesome game that will be loved forever. Of course, gamers have personal preferences, but we hope that this game will become one of your all-time favorites.