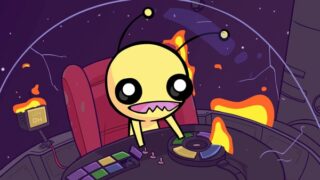 The Behemoth has released the Alien Hominid Invasion intro cinematic and PAX Online x EGX Digital 2020 demo for PC via Steam.
The PAX Online x EGX Digital 2020 demo will be available to play on September 12 and 13, and again on September 18 and 19.
Here is an overview of the game, via its Steam page:
About

Abduct intel from your enemies to sabotage their plans, observe the oddities of human life, blow up bosses, and mutate into a variety of powerful Alien forms in order to take down the not-so-secret Agents that are dead set on ruining your day.

Key Features

Up to four players online or offline.

Up to four-player local and online co-op.
Help MOTHERSHIP invade the Earth, facing down all new enemies and bosses.

Three difficulty levels: "Friendly" (200 percent health), "Normal" (100 percent health), and "Insane" (40 percent health).

Difficulty level is set per-player—one player can be on Friendly and one player on Insane, no problem!
Master Alien acrobatics at your own pace—flipping, diving, grenade jumping, head riding, down-shooting, dodging, and tossing enemies

Mix and match modifiers.

Unlock and equip tons of unique weapons, boosts and cosmetics.
Level up and mutate your Alien to utilize even more new mechanics like super speed, healing and flight!

Destroy the enemy HQ!

Determine your own gameplay path with a non-linear level experience.
Invade randomly-assembled neighborhoods from hundreds of hand-crafted city blocks.
Alien Hominid will launch for Xbox One, Switch, and PC via Steam. A release date has yet to be announced.
Watch the intro cinematic below.