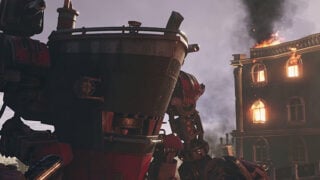 Publisher Deep Silver and developer King Art Games have released the official story trailer for real-time strategy game Iron Harvest.
Here is an overview of the trailer, via Deep Silver:
Get a glimpse on the rich and atmospheric storytelling of Iron Harvest. Follow the three factions Polania, Saxony, and Rusviet and their unique heroes deeper and deeper into the evolving conflict.

Iron Harvest tells and epic, overarching story following three factions and their protagonists. Each faction offers different tactical opportunities. in the intense tactical battles. This not only allows an intense story telling spanning over 20 missions in three campaigns but also guarantees deep tactical multiplayer experiences in which strategy beats clicks per second at any time. Additional Skirmish and Challenge Maps allow to challenge the AI alone or in co-op with a friend.
Iron Harvest is due out for PC via Steam on September 1, and for PlayStation 4 and Xbox One at a later date. A "Pre-Season / Open Beta" is available now via Steam.
Watch the trailer below.