Astro City Mini launches December 17 in Japan
13 more titles announced.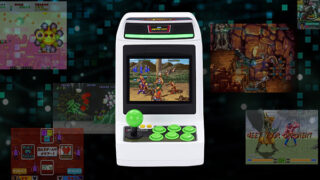 Astro City Mini, the mini version of the classic Sega arcade cabinet, will launch on December 17 in Japan for 12,800 yen, Sega Toys announced.
In addition to the mini arcade cabinet itself, Sega Toys will also release a controller pad for 2,780 yen and arcade-style kit for 3,980 yen.
Astro City Mini will include 36 titles. The following 23 have been announced thus far:
Announced August 20
Bonanza Bros.
Columns
Cotton
Crack Down
Cyber Police ESWAT
Puyo Puyo
Puzzle & Action: Ichidant-R
Gain Ground
Shadow Dancer
Shinobi
Wonder Boy
Wonder Boy in Monster Land
Wonder Boy III: Monster Lair
Announced July 7
Alien Syndrome
Alien Storm
Altered Beast
Columns II: The Voyage Through Time
Dark Edge
Fantasy Zone
Golden Axe
Golden Axe: The Revenge of Death Adder
Puzzle & Action: Tant-R
Virtua Fighter
The remaining 13 titles will be announced during a Famitsu live stream on September 3.
Watch a new trailer below. Visit the Astro City Mini official website here.