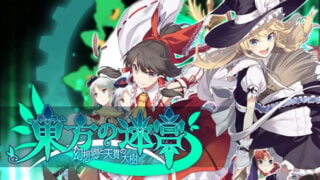 Touhou Labyrinth: Gensokyo to Tenkan no Taiju will launch for PlayStation 4 and Switch on July 16 in Japan for 5,280 yen, publisher Phoenixx and developers Cubetype and Nise-Eikoku Shinshidan announced.
The Touhou Project dungeon RPG allows players to form a party of 12 from over 50 playabl characters to take on a vast labyrinth and battle against formidable enemies, including over 100 bosses. Characters can be enhanced with character-specific skills, equipment creation, stat increase items, level up bonuses, and more. You can acquire a sub-class by using an awakening item, or increase your stats by spending money.
Watch a new trailer below. View a new set of screenshots at the gallery.