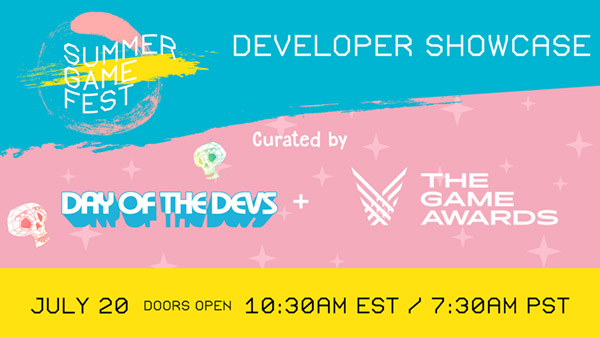 The first Developer Showcase of Summer Game Fest 2020 will air on July 20 at 8:00 a.m. PT / 11:00 a.m. ET, with an acoustic rendition of selections from the Sayonara Wild Hearts soundtrack performed by composer Jonathan Eng beginning 30 minutes prior. You will be able to watch it on YouTube, Twitch, Twitter, Facebook, Mixer, and more.
The Developer Showcase will feature the first-ever live performance of the Bugsnax theme song by Kero Kero Bonito, plus a "high-quality lineup of exclusive games" including:
An Airport for Aliens Currently Run by Dogs (Strange Scaffold)
Dreamscaper (Afterburner Studios / Maple Whispering Limited)
Figment: Creed Valley (Bedtime Digital Games)
Ghostrunner (One More Level / 505 Games)
Griefhelm (Johnny Dale Lonack / Thorrnet Publishing)
I Am Dead (Hollow Ponds and Richard Hogg / Annapurna Interactive)
Mechinus (Huey Games)
Tunche (LEAP Games Studios / HypeTrain Digital)
Unto The End (2 Ton Studios / Big Sugar)
Voidtrain (Nearga / HypeTrain Digital)
iam8Bit world premiere exclusive reveal
Panic world premiere exclusive reveal
MWM Interactive world premiere exclusive reveal
Team17 world premiere exclusive reveal
ustwo games world premiere exclusive reveal
The Day of the Devs team will also spotlight games from the students at Girls Make Games, a series of summer camps, workshops and game jams designed to inspire the next generation of designers, creators, and engineers.
Watch a trailer for the July Developer Showcase below.