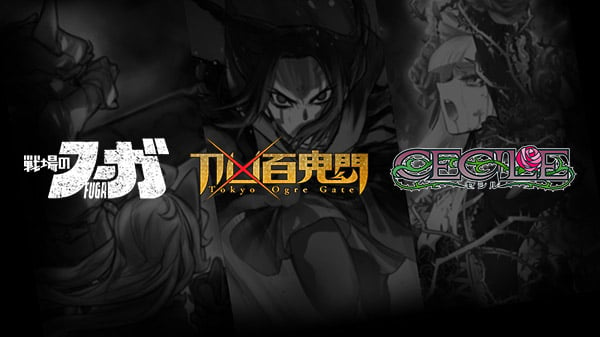 CyberConnect 2 president Hiroshi Matsuyama has shared an update on the company's "Trilogy of Vengeance" self-published titles in a new video.
In the video, Matsyuama teases "good news" regarding Fuga: Melodies of Steel coming soon, as well as confirmed that Tokyo Ogre Gate and Cecile are not yet in active development.
Here is the full transcript:
What do you hope to achieve with the "Trilogy of Vengeance" games that CC2 is developing? In other words, what are the goals for each of the games of the Trilogy?

Hiroshi Matsuyama, President of CyberConnect2: "Well, I first want to restate what this project is about. These are games that will be developed and published by CyberConnect2. "Trilogy of Vengeance" refers to three games: Fuga: Melodies of Steel, Tokyo Ogre Gate, and Cecile.

"In the current world of game development, especially with the PS4 and the upcoming PS5, developing a game has become a large-scale endeavor. But about 10 years ago, around the time of PS2, games were made on a smaller scale, with teams of 10 to 20 people able to fully develop a game in about a year or a year-and-a-half. These games wouldn't be made to be played for a very long time, but rather aimed to offer a short but rewarding gameplay experience, so that the player would enjoy the game, and then move on to another game. This is the kind of experience we want to offer to the players with this project.

"There are two goals. First, it's a chance for our younger staff to develop a game from A to Z. Developing a single big game, like Dragon Ball or Naruto, takes about three years. Dragon Ball took five years to develop, and so an employee can end up working on a single project for a long time. There's this underlining thought that you can only be a 'true creator' if you've been involved from start to finish. Which is why we wanted to also develop smaller-scale projects with a shorter development period, so that our employees can acquire a broader range of experiences, and are therefore better equipped to make decisions later on. That is one of the goals of this project.

"The other goal… Well, we have a lot of ideas and things we want to do. But since we still only have a company of about 200 employees, if we only make large-scale projects, we cannot develop that many games, so we want to be able to put out games regularly and share our current ideas with the world, and be able to quickly bring to the players new games. So we have this goal of constantly putting out games.

"Concerning Fuga: Melodies of Steel, like for another one of CyberConnect2's important series, Little Tail Bronx, this game is set in a world where the characters have animal features such as ears and muzzle. So in this game too you fight in this unique world, similar to Tail Concerto and Solatorobo. So there is a connection there, and Fuga can be seen as the most recent installment of this kind of games, but it's also different since this one is an RPG in which you play children travelling in a tank. We will probably be able to share good news about this game soon, so please look forward to these new developments!

"Concerning Tokyo Ogre Gate and Cecile, we haven't assigned people specifically to the development of these games yet. We are instead working on them incrementally, so the people who planned this game, as well as parts of the programmer and artist teams, are slowly working on specific parts of the game, like the scenario and design, and creating game specifications. Depending on the project, we already have the main visuals. We're working on these projects gradually, but we will be gradually releasing information on our progress as we keep moving forward.

"Tokyo Ogre Gate is set in the Taisho period, but merges the Taisho setting with steampunk influences, creating a unique world. The faster you go, the bigger the impact of your attack, is one of the one of the characteristics of this parkour action game. I think it'll be a very edgy project.

"For Cecile, more than being a kind of hack-and-slash, I would describe it as a fighting game. In this game Cecile must get revenge and kill her four sisters, so this is definitely an action game, but for this game too, we want to make something that has the CyberConnect2 flare to it, and you can expect some surprises. So I hope you'll be looking forward to it."
Watch the video below.