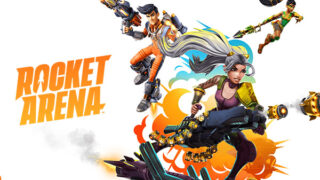 Electronic Arts will publish Final Strike Games-developed three-versus-three shooter Rocket Arena for PlayStation 4, Xbox One, and PC via Steam and Origin on July 14, the companies announced. It will support cross-play across all platforms. The game was first announced in May 2019 under the publishing arm of Nexon America.
"Rocket Arena is a celebration of our team's experience and love of working on multiplayer shooters," Final Strike Games co-founder Kevin Franklin said in a press release. "We're excited to have our uncompromised vision for the game be realized with the support of EA Partners and for everyone to start playing it next month."
Here is an overview of the game, via its official website:
About

Rockets rule everything in Rocket Arena, an explosive three-versus-three shooter where you're never out of the fight. Master your hero's unique rockets and abilities to blast your rivals off the map and rule the arena!

Key Features

Master the Rocket – Rockets are easy to use but challenging to truly master. Learn how to time your dodges, lead your targets, and use well-timed items and gadgets to change the course of combat.
Pick Your Playstyle – Explore a growing roster of fantastic heroes, each with distinctive personalities, backstories, and rivalries. Master your hero's powerful abilities and signature rockets and get the most out of your squad.
Never Out of the Action – Never say die, because in Rocket Arena, you can't! Taking too many hits will blast you out of the arena, but not out of the action. Ride your rocket right back in, survey the scene, and return to the fight.
Watch the announcement trailer below. View a new set of screenshots at the gallery.