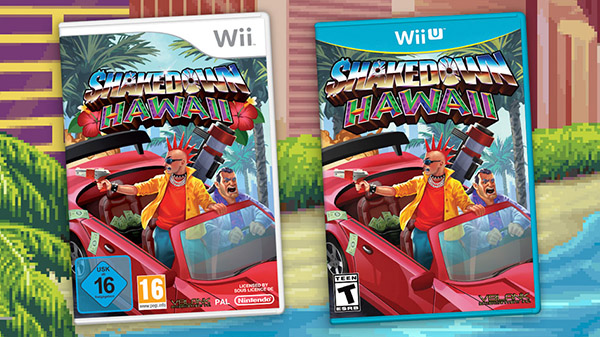 Shakedown: Hawaii is coming to Wii on July 9, followed by Wii U and Steam in August, developer Vblank Entertainment announced. The Wii version will be limited to 3,000 copies and cost $29.99.
The 16-bit open-world action game first launched for PlayStation 4, Switch, PS Vita, and PC via the Epic Games Store in May 2019, followed by 3DS in September 2019.
Here is an overview of the Wii and Wii U versions, via Vblank Entertainment:
The Wii and Wii U versions include all of the currently released content and feature updates, including the Mogul Update, the Full Tank Update, and the many other little tweaks, improvements and optimizations that went into the game post-launch.

Both versions will also allow you to experience the game in the most retro way possible… in 4:3 on your old CRT televisions… and in my opinion, it looks glorious!

The Wii version supports both 50 hertz and 60 hertz, and both NTSC and PAL output. It supports the Wii Remote (with shake!), Wii Classic Controller, Wii Classic Controller Pro, and GameCube Controller. I took special care to ensure it parallels the experience of the more powerful platforms, and further optimized it to fit entirely into the Wii system memory. This means that you won't experience any disc load times during gameplay. Once the game boots, you're in!

The Wii U version supports both SD and HD, 4:3 and 16:9. You can play it with the Wii U GamePad, Wii U Pro Controller, Wii Remote, Wii Classic Controller, or Wii Classic Controller Pro. It can be played entirely on the GamePad (with touch!), or on the TV from the comfort of your couch.
And here is the backstory to why Shakedown: Hawaii is coming to Wii and Wii U:
Like most of my ports, Shakedown: Hawaii on Wii began one Friday night on a whim of curiosity. Perhaps a jolt of Wii nostalgia rushed through me that evening, but I suddenly wondered… how long would it actually take to port? How would it feel to play with a Wii Remote? How would it look in 4:3? Would it hit 60 frames per second right off the bat, or need optimization? I had many questions, but as soon as I held that Wii Remote and started playing, I knew I wanted to take it to the finish line.

Now, for some ports, that's where it begins and ends. I'm no stranger to porting games to discontinued platforms, even when I know they won't see the light of day. It's just something I enjoy. The older the platform, the more fun it is! The cleverer I need to be! The more ways I'll need to figure out how to optimize things! However, for fun or not, if there's even a small chance that a port can be released, I'll do all the legwork I can to try and make that happen.

While it still feels like yesterday, it's been nearly 14 years since the Wii launched. Although we've still seen some Wii releases over the past few years, seeing one more wasn't a given. Indeed, despite my best efforts, it just wasn't in cards anymore, at least, not for North America. However, as luck would have it, the doors hadn't quite closed yet with Nintendo of Europe, so it was still able see a release! Words truly can't express how appreciative I am, and I can't thank them enough for all the heavy lifting they did on their end to make it a reality. It's meant the world to me, and these Wii discs specifically hold an immense place in my heart.

As incredibly as it all worked out, unfortunately, Wii discs aren't region-free, and I didn't want North American players to be left out. Although I continued talks with Nintendo of America, floating around a Plan B, Plan C… Plan Z, sadly, every idea hit a wall. The clock was ticking, and after exhausting all other options, I decided to pivot to the next best thing: the Wii U. After all, the Wii U still supported Wii Remotes, Wii Classic Controllers, and even 4:3! So, I rushed against time to port Shakedown: Hawaii to Wii U as well, and get it through certification before that door could close too!

I want to thank everyone at Nintendo for all the support, and everyone there who helped make these possible. To the lotcheck teams, thank you, thank you!

So, here we are and it's almost July! You might've seen the Wii teases on Twitter and Instagram late last year, then scratched your head as to why the radio silence. In the past, I often announced things too early, resulting in years of waiting and "when it's done" release dates. These days, I prefer to take a different approach and have all the ducks in a row before making announcements. Ideally, to wait until a release date (or month) is locked in. Of course, in this case it looked like it was! Both the Wii and Wii U games had gone gold and everything was on track. I excitedly began posting teasers… the Wii Remote pixel art, the 4:3 footage… all to lead up to this big announcement. But, then COVID-19 happened, and the world went to a standstill. I decided to wait until everything began to reopen and new release dates could be set in stone before posting any more teasers. Of course, I never would've imagined that would've taken this long, but better late than never!