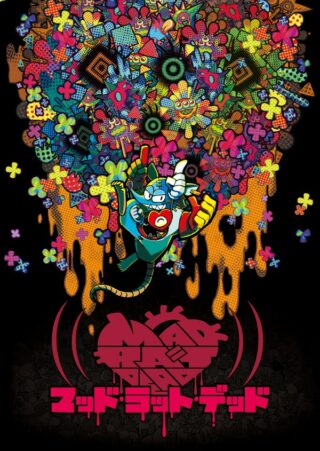 Nippon Ichi Software has announced Mad Rat Dead, a new rhythm action game for PlayStation 4 and Switch directed by Yomawari designer Yu Mizokami. It will launch on October 29 in Japan for 7,678 yen.
Get the first details below.
■ Summary

Nippon Ichi Software will release Mad Rat Dead for PlayStation 4 and Switch on October 29, 2020 in Japan.

Mad Rat Dead is a rhythm action game in which a lab rat that lived and died in a cage uses the "final day" granted to him by the Rat God to get revenge on humans.

A new title from director Yu Mizokami, who created the popular horror action series Yomawari, Mad Rat Dead offers exhilarating action in which you progress through rhythmic stages according to the music in a cartoon-style world where a rat fights against humans.

Please look forward to it.

■ Mad Rat Goes on a Grand Adventure in a Cartoon-Style World

This is the adventure story of "Mad Rat," a lab rab that lived and died in a cage, who uses the "final day" granted to him by the "Rat God" to get revenge on humans!

Mad Rat Dead is depicted in a cartoon style. Mad Rat uses his "heart" as his partner to adventure to places where humans live, such as downtown or the research institute.

—Mad Rat is a lab rat on the verge of death. Players take control of this pitiful rat and aim for revenge on humans! How will Mad Rat enact his revenge?

■ Characters

Mad Rat

A lab rat that was used as a test subject by humans and lived his life in a cage. On the "final day" granted to him by the Rat God, he plots to get revenge on humans.

Although hot-tempered and impatient due to his hatred for humans, he can also be compassionate in that he cannot ignore someone in need.

His favorite thing is cheese (which he has never eaten). He hates humans and cats.

Heart

Mad Rat's heart, which suddenly jumps out of his body and speaks. Overly friendly, just about everything he says is positive. He tends to get on Mad Rat's nerves and make him angry.

He thinks that Mad Rat trying to get revenge on the humans is insane, but even with all that said and done, lends him a hand in his revenge.

Rat God

The Rat God who appeared in front Mad Rat, who died and crossed over to the world of the dead. She is super cute (according to Mad Rat).

She sympathizes with Mad Rat, who lived and died in a cage, and grants him a "final day."

She tells Mad Rat that, "When you fulfill your dreams, you can die a peaceful death without regrets," and supports his dream of getting revenge on humans.

Doctor

A human doctor who used Mad Rat as a lab rat and made him live his life in a cage. Mad Rat hates this doctor and plans to get his revenge.

The doctor is doing some sort of research, for which he keeps a number of caged rats.

■ Rhythm x Side-Scrolling Action

Mad Rat Dead is a rhythm action game in which Mad Rat moves to the beat by pressing buttons to match the rhythm of the music. Press the button at the right time to guide Mad Rat to the cheese at the end of the stage.

Since you can can feel the rhythm through the rumble of the controller, but with the notes shown on the bottom of the screen, you will be alright even when you are unsure of when to push the buttons.

—The "Rat God" will teach you how to play the game's rhythm action at the beginning of the game.

■ Choose Your Actions with Good Rhythm According to the Situation

It is important not only to press buttons with good rhythm, but also to choose the best action according to the situation.

Dash

This quick movement is the basic action of Mad Rat Dead. Dashes can also be used in mid-air, as well as to hop over small steps.

Jump

With the high jump action, you can jump over large holes and obstacles. You can use the dash action to jump further mid-jump. Run around the stage as you please!

Attack

The action to attack enemies. By jumping near an enemy, Mad Rat will leap at and whack the enemy. You can also whack the enemy by diving.

Dive

The action to dive down from mid-air. While there are a limited amount of places to use it, it is useful for quickly descending to the ground.

Charge

The action to build up power and strengthen the action that follows. It can be used on the ground or in mid-air, and lengthens the distance of a dash.

■ Aim for the High Score

When you clear a stage, results will be shown based on how fast you beat the stage and how many times you played along with the game's rhythm. Try and try again to hone your rhythm and action skills to get a high score!

—By performing actions that match the rhythm one after the other, you can chain together a combo that gets your Heart excited. If you can maximize your Heart's excitement, then getting a high score should be no problem!

■ Featuring the Musical Sounds of Seven Artists
Watch the announcement trailer below. View the first screenshots at the gallery.