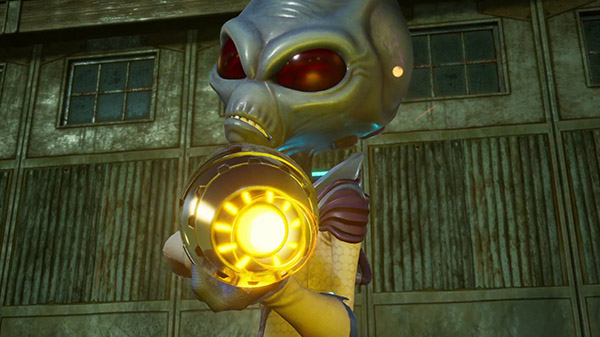 Publisher THQ Nordic and developer Black Forest Games have released a new trailer for the Destroy All Humans! remake dubbed "Cryptosporidium-137 Presents: Fun with Alien Guns."
Here is an "incoming transmission originating from somewhere between Earth and Mars," as provided by THQ Nordic:
"Greetings, fleshy Earth beings. Cryptosporidium 137 here, delivering a message on behalf of the Furon Empire: You are all going to be destroyed.

To show you how much fun I will have, bringing the final elimination to you, I have created a new audio-video transmission to teach you the Furon ways of destruction. Our research has proven, species who are familiar with the several ways of being exterminated, are 27% less likely to resist. So please watch the transmission several times to learn all different methods of being annihilated – we do not want you to be afraid when the alien invasion begins on July 28, 2020 on the humanoid entertainment systems PC, PlayStation 4, and Xbox One™!"
Destroy All Humans! is due out for PlayStation 4, Xbox One, and PC via Steam and GOG on July 28. A demo is currently available for PC via Steam and GOG.
Watch the trailer below.