Muv-Luv: Project Immortal launches in 2021, short gameplay trailer
The Muv-Luv smartphone action RPG.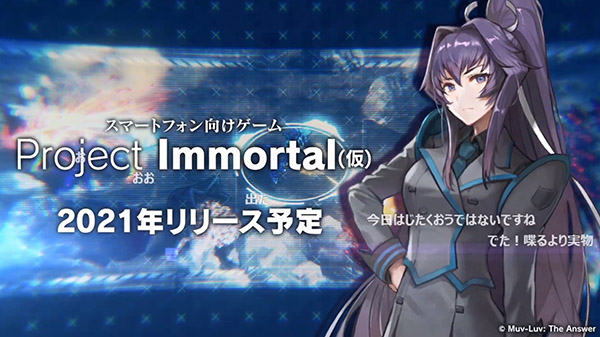 Muv-Luv smartphone game Project Immortal (title tentative) will launch for iOS and Android in 2021, Age announced on day two of its web event "ComiFuri: I Don't Want Dojin Circles to Get Hurt, So I'll Max Out My Web Event."
Project Immortal is an action RPG where players take control of popular characters and Tactical Surface Fighters from the Muv-Luv series to fight off enemy BETA. It also features four-player co-op and offline support, so it will still be playable even if it ends service.
According to creator Kitakuou, Age may release a version of the game that lets players experience its combat parts in October, which will likely serve as a benchmark and beta test. And in addition to iOS and Android, Kitakuou would also like to release a PC version of Project Immortal via Steam. The game may even include some scenarios written by Muv-Luv creator Hirohiko Yoshida.
Watch a new trailer below.
Thanks, Famitsu.