Guerrilla Collective indie games showcase set for June 6 to 8
Premiere event joins PC Gaming Show and Future Games Show on June 6.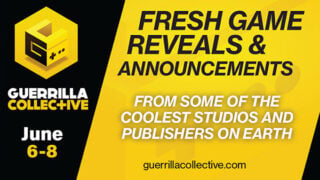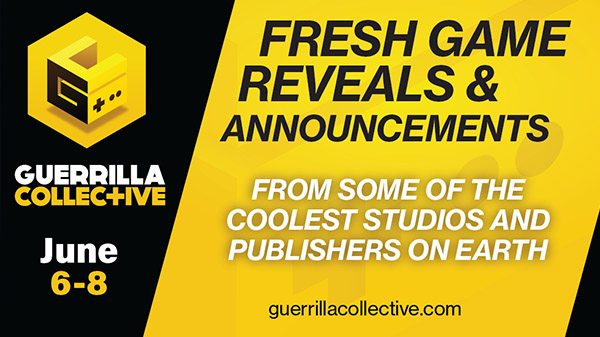 A coalition of independent game companies and partners have announced the Guerrilla Collective, an online press conference and event that will feature exclusive video game news, reveals, trailers, demos, and more. It is produced by Media Indie Exchange in partnership with the Kinda Funny Games Showcase.
Guerrilla Collective is a three-day event beginning June 6, which will feature "some of the world's coolest publishers, developers, and media, with a full day dedicated to gaming news and announcements." Its premiere event will be part of a larger day of video game programming, which includes:
A second online press event will be held on June 7, and the event will finish up on June 8 with a day of programming that includes live gameplay demos and developer interviews.
The Guerrilla Collective will feature a number of game companies, including:
11 bit studios (credits include Frostpunk, This War of Mine)
Another Indie (SIMULACRA 2, Yuppie Psycho)
Coffee Stain Studios (Satisfactory, Deep Rock Galactic)
Fellow Traveller (In Other Waters, Neo Cab)
Good Shepherd Entertainment (John Wick Hex, The Eternal Cylinder)
Headup (Bridge Constructor Portal, Pumpkin Jack)
Humble Publishing (Temtem, Forager)
Larian Studios (Baldur's Gate III, Divinity: Original Sin II)
Modern Wolf (Necronator: Dead Wrong, Out There: Oceans of Time)
Paradox Interactive (Cities: Skylines, Stellaris)
Raw Fury (Kingdom Two Crowns, Atomicrops)
Rebellion (Sniper Elite 4, Zombie Army 4: Dead War)
Those Awesome Guys (Monster Prom, Move or Die, Floppy Knights)
Thunderful (SteamWorld Quest: Hand of Gilgamech, Lonely Mountains: Downhill)
United Label (Eldest Souls, Röki)
Versus Evil (The Banner Saga, Pillars of Eternity II: Deadfire)
Whitethorn Games (Aground, StarCrossed)
WINGS Interactive (Later Daters, Lord Winklebottom Investigates)
Ysbryd Games (WORLD OF HORROR, VA-11 HALL-A: Cyberpunk Bartender Action)
ZA/UM (Disco Elysium)
And more coming soon…
The Guerrilla Collective is part of both IGN's Summer of Gaming 2020 and GameSpot's Play For All 2020.