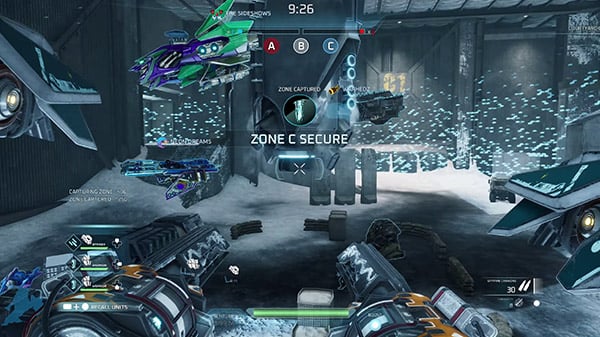 Publisher Private Division and developer V1 Interactive have released a new trailer for Disintegration introducing the science-fiction first-person shooter's three multiplayer modes: Zone Control, Collector, and Retrieval.
Here is an overview of the game, via its official website:
About

Disintegration is a sci-fi, first-person shooter that blends real-time tactical elements to create an entirely new experience. Set in a world ripped apart by famine, scarce resources, and the planet on the brink of destruction, humanity has developed a process to survive its harsh reality known as Integration, in which a human brain is transferred to a robotic armature. From the ensuing chaos, an aggressive, militaristic legion, known as the Rayonne, gain control and begins to impose the once optional process of Integration onto the rest of humanity to consolidate their power.

Players command Romer Shoal, an incredibly-skilled Gravcycle pilot, who leads a small band of outlaws to fight back against an overwhelming Rayonne force. Over the course of a thrilling single-player campaign, players will control a Gravcycle loaded with weaponry, leading Romer and his team across a series of diverse missions packed with action, explosions, and plot twists, to beat back the Rayonne forces and give the last vestiges of humanity hope to prevail.

In addition to the full single-player campaign, Disintegration features frenetic player-versus-player multiplayer where pilots and their crews compete in three game modes and six distinct maps. Players can select from nine highly-stylized "Crews" which lend themselves to different playstyles.

Multiplayer provides a host of cosmetic customizations that can be purchased or earned in-game, including pilot and crew skins, cosmetic Gravcycle customizations, and a variety of banners. In addition to the multiplayer content at release, the team at V1 will be supporting the game post-launch with seasonal content drops.

Key Features

Tactical Gravcycle Combat – Pilot a heavily armed Gravcycle featuring a variety of firepower, maneuverability, and abilities.
Riveting Single-player Campaign – From Marcus Lehto, the co-creator of Halo and creative director of Halo: Reach, comes an all-new sci-fi saga. Play as Romer Shoal and confront the Rayonne, a rising global army set on eliminating what remains of humanity.
Frenetic Multiplayer Action – Battle across a variety of maps in three intense, team-based five-versus-five multiplayer modes. Choose your favorite Gravcycle and lead your crew alongside your teammates, competing against opposing pilots to win objective-based matches.
Disintegration is due out for PlayStation 4, Xbox One, and PC via Steam on June 16.
Watch the trailer below.
https://www.youtube.com/watch?v=aAomDF2SmEs