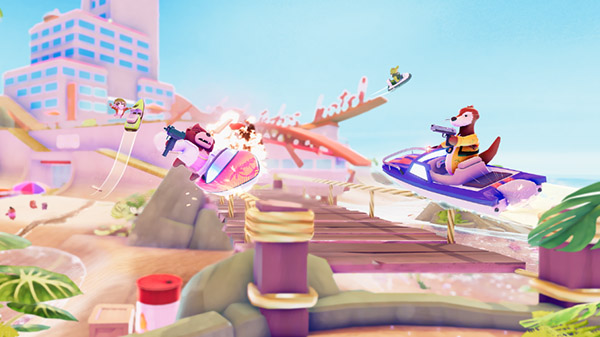 "Skateboating" game Wave break will launch first for Stadia this summer for $29.99, developer Funktronic Labs announced.
"It's been way too long since a good skateboarding game like Tony Hawk's Pro Skater came out, hasn't it?" said Funktronic Labs co-founder Eddie Lee in a press release. "Look, we all know everyone needs a fun arcade skating game in life, but what we didn't know is that you can do skateboarding tricks on boats too. And thus, Wave Break."
Wave Break is also planned for release on PC via Steam.
Here is an overview of the game, via Funktronic Labs:
About

Skateboating… with guns, Wave Break is set in a crime-filled, 1980s era Miami Vice-inspired world, filled with outlandish characters and a fresh synthwave soundtrack. Uncover the rivalry firsthand between the Mafia's Big Pin and Detective McHutchenson in an episodic storyline involving guns, kickflips, and blood money.

Play through the campaign or one of many other modes, both online and offline with friends, or strangers. Whether you want to rack up points in Trick Attack or shoot your friends' Boaty McBoatface off in Deathmatch is up to you. Various playable characters with unlimited* customization potential. From tropical beaches to frozen tundras, there's no place on water or land that won't float your boat. ;)

*limited customization potential

Key Features

Pro Skateboating Moves – Chain together sweet trick combos to boost your score, and fill up your special meter to perform special physics defying moves for massive points
Boat on Boat Violence – Shoot your opponents with a selection of firearms in aquatic vehicular combat, and build your special meter to go into "bullet time" for slow-motion precision shooting
Online and Local Multiplayer – Play on the couch with a friend in local split-screen, or play with other players online, with rank-based matchmaking and private matches
Competitive Game Modes – Compete for the highest score in Trick Attack, gun down your opponents in Death Match, and take over territory in Turf War
Single Player Story Campaign – Experience the rivalry firsthand between Mafia's Big Pin and Detective McHutchenson in an episodic storyline involving guns, kickflips, and blood money
Fresh Synthwave Soundtrack – Vibe out to an 80's inspired soundtrack featuring brand new music from well known synthwave artists
Boat Loads of Customization – Stop by the "Beach Boutique" shop for the latest fashions to dress up your characters, visit Jimmy Jimbo to purchase different boats, accessories, and skins, and don't forget to hit the Gym to buff up your character's stats and attributes
Watch a new trailer below.