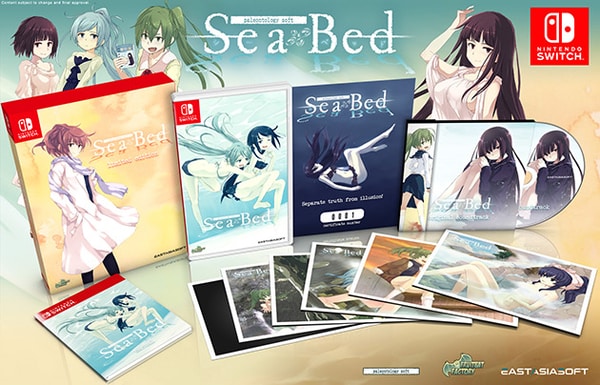 Eastasiasoft will distribute limited print run physical editions of yuri-themed mystery visual novel SeaBed for Switch, the company announced. Pre-orders will open on March 19 at Play-Asia.
SeaBed for Switch will be available in a $29.99 standard edition, as well as a $39.99 limited edition. The limited edition is limited to 2,000 copies and includes the following:
A physical copy of the game (region-free)
A full-color printed manual
An original soundtrack CD
A postcard set
An individually numbered collector's certificate
A collector's box (with an embossed logo)
Here is an overview of the game, via Eastasiasoft:
SeaBed tells the story of three young women as they try to make sense of their lives. Sachiko is a designer haunted by visions of her former lover, Takako is an adventurous type who is rapidly losing memories of that relationship, and Narasaki is a psychiatrist friend observing them as she studies human memory.

Explore the world through the eyes of these women, from childhood into their adult lives, separate truth from illusion and solve the mysteries surrounding them. Experience a heartfelt narrative about love, loss, memory and the pursuit of true happiness through scenes ranging from slice-of-life adventure to deep romance.

SeaBed was originally released in Japan in 2016 and quickly drew the attention of visual novel enthusiasts in both Japan and abroad. The Nintendo Switch version of SeaBed features two new scenes that have never been seen before, as well as added localization.
The physical edition of SeaBed is expected to ship this summer as a "Complete Edition" with all patches and localization on the game cartridge. The digital edition is due out via the Nintendo eShop on March 19 for $19.99 / 2,200 yen.
Watch a trailer for the physical edition below.