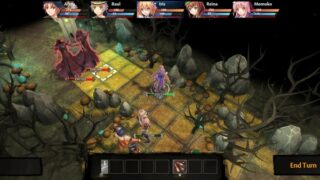 PQube will publish CooCooSqueaky-developed turn-based strategy RPG Tears of Avia for Xbox One and PC this summer, the company announced.
Here is an overview of the game, via its official website:
About

Build a party of charismatic allies and utilize the vast skill-tree system to combine classes and skills in a limitless number of ways. Lead your party across Estera in search of the lost city of Avalon, engaging in thrilling turn-based battles in this unique tactical experience.

Key Features

Customize Your Party to Your Own Play Style – Tears of Avia richly rewards build-craft. Carefully combine Ranger, Warrior, Mage, Brawler & Priest classes to create a party suited to your own tactical strengths.
Expansive Skill-Tree System – Customize and combine skills and discover the limitless ways in which they chain and react to one another—with profound consequences!
Dynamic Storyline – The choices you make within your party shape the way the story unfolds and effects the dynamic of your party. Side missions are triggered by discussions between different characters.
Weapons-Based Skills – The 100s of in-game skills can be derived both from class and the weapons you equip each character with to add a new layer of strategy.
Explore a Vast and Immersive World – Traverse the beautiful and varied regions of Estera in search of the forgotten city of Avalon and a love lost hundreds of years previously.
Nothing is Black and White – There are no right or wrong actions, but every action has consequences that can shape the way your journey unfolds…
Watch a new trailer below.