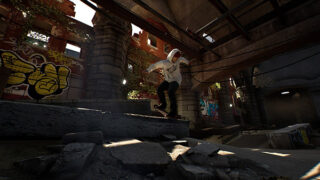 Developer crea-ture Studios has released a substantial update for the Early Access version of skateboarding simulation game Session for PC, as well as announced a partnership with developer iLLOGIKA to co-develop the Xbox One version of the title, which will launch via Xbox Game Preview this spring.
Here is an overview of the update, via crea-ture Studios:
Session's hefty new update features improved physics, more fluid skater animations, and enhanced responsiveness, making each trick look and feel more lifelike than ever. Other big new additions include:

The ability to remotely connect and play games of S.K.A.T.E against other players online via Steam Remote Play Together.
A new trick-and-control system that makes it easier than ever to pick up and play.
Slides and grinds are now smoother and players can more easily transition from one grind/slide to another without having to "pop" into the next one.
The return of the original crea-ture park with new obstacles and spots representative of the New York City skate scene.
Brand-new radio stations featuring over 30 new songs and artists.
A new level layout feature that allows players to pick and choose between an exact, real-life replica of the Brooklyn Banks or more customized versions of the iconic skate spot.
General game enhancements that make it easier to lock into grinds and avoid bailing, a tweaked revert system that caters to each player's preference and much more.

Inspired by the golden era of skateboarding, Session captures the free-flowing creativity, culture, and madness of the sport in its purest form with realistic skate physics for a truly grounded experience. The game features true stance-stick controls in which each stick on the gamepad controls one foot to replicate the real deal and teach you to pull off tricks like an expert.
Watch a new trailer below. View a new set of screenshots at the gallery.