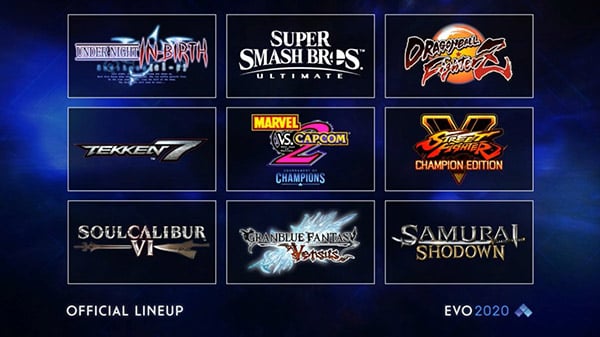 The Evolution Championship Series has announced the official games lineup for EVO 2020, which will run from July 31 to August 2 at the Mandalay Bay Resort and Casino in Las Vegas.
The official games are as follows:
Dragon Ball FighterZ (PS4)
Granblue Fantasy: Versus (PS4)
Samurai Shodown (PS4)
Soulcalibur VI (PS4)
Street Fighter V: Champion Edition (PS4)
Super Smash Bros. Ultimate (Switch)
Tekken 7 (PS4)
Under Night In-Birth Exe:Late[cl-r] (PS4)
EVO 2020 will also host a special invitational tournament for the Dreamcast version of Marvel Vs Capcom 2 called "20urnament of Champions" in celebration of the game's 20th anniversary. It will feature a total of eight players, including the four Marvel vs. Capcom 2 EVO title holders from past EVO tournaments.
Watch a trailer for EVO 2020 below.