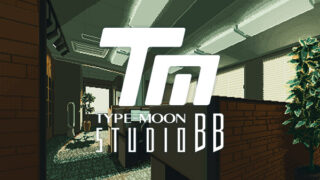 4Gamer.net recently published an interview with TYPE-MOON studio BB head Kazuya Niinou, who shares a bit more information about the August 2019-established developer's upcoming slate of games.
Back in December 2019, Niinou teased three titles in the pipeline: "a game related to an existing Type-Moon title;" "a new title set (in a broad sense) in a world created by Type-Moon co-founder Kinoko Nasu;" and "a brand-new, Type-Moon-style title (in an even broader sense)."
Speaking to 4Gamer.net, Niinou said, "I'm picturing a large-scale title made with the full efforts of Studio BB and the main team at Type-Moon in about five or six years, and I'm having talks with [Type-Moon co-founders Takashi] Takeuchi and [Kinoko] Nasu about trying for it."
Niinou continued, "We're not at a stage where we can officially announce anything yet, so there is not much I can say, but we're currently planning three projects, the first of which has already begun development. That one is a medium-sized title being made in collaboration with another development company. Apart from this, we're planning to begin development from the start of 2020 on a small-scale title(s) that we can complete internally at Studio BB.
"Each title is a step toward the large-scale title I mentioned earlier, and is being treated as something in pursuit of the world view and presentation of Type-Moon, as well as to develop Studio BB's abilities. If the large-scale title I'm picturing ends satisfactory, I may even be willing to retire (laughs)."
As far as platforms go, Niinou said, "We want as many people as possible to play, so we want to take a broad approach without aiming too specific. Currently, we're planning for PlayStation 4, Nintendo Switch, and PC, and are also considering other platforms such as Xbox One, smartphones, and the cloud."
Unfortunately, Niinou could not share more details, but said that the studio should be able to make a concrete announcement this summer.