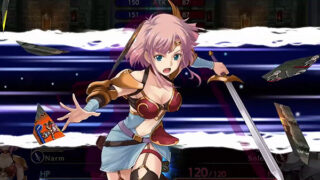 NIS America has released a new trailer for Langrisser I & II introducing the story of Langrisser I.
Here is the Langrisser I story summary from game's official website:
Long ago, there was a terrible war over a legendary sword said to grant its wielder unlimited power. The blood of those who vowed to protect it and those who sought its power for themselves permeated the battlefields of El Sallia. That sword is known as Langrisser. Of those who swore to protect it, the royal family of Baldea has safeguarded it from the world for many generations. Thanks to Baldea, tales of Langrisser soon faded from memory.

However, Baldea's sworn duty would be called to action once again. Motivated by power and the conviction to rule the world, Kaiser Digos and the Dalsis Empire he commanded invade Baldea, seeking the enticing power of Langrisser. Ledin, the prince of Baldea, narrowly escapes the invasion, and devises a way to avenge his father, who had been killed by Kaiser Digos.

Now, Ledin must reclaim Langrisser, which his ancestors fought so valiantly to protect—thus beginning his journey that will test his loyalty to the Light.
And here is an overview of the remake collection, via NIS America:
About

Langrisser I: The forces of darkness are descending upon the kingdom of Baldea. Take up your sword as Prince Ledin, and discover the evil that lies in the heart of the Dalsis empire.

Langrisser II: The forces of darkness once again threaten the realm. Thrust in between warring factions, it is up to our hero Elwin to navigate this war and determine which path will bring peace to this conflict.

Langrisser I & II is returning with both classic stories of good and evil now remade in beautiful high-definition visuals, reorchestrated music, and quality-of-life improvements to the gameplay and user experience that made these strategy RPGs truly legendary.

Key Features

A Blade Honed to Perfection – Experience two classic titles with new art, music, and presentation.
Modernizing a Timeless Tale – Perfectly re-tuned gameplay for a modern SRPG feel.
Langrisser and Alhazard – Two legendary swords, two legendary tales—brought back to life with new localization and a new character!
Langrisser I & II is due out for PlayStation 4, Switch, and PC via Steam on March 10 in North America and March 13 in Europe.
Watch the trailer below.