Famitsu and 4Gamer interview Japanese creators on 2020 ambitions
Teasers for what is to come in the new year.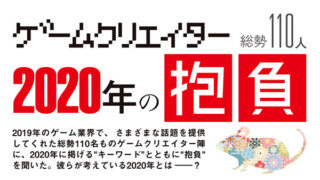 Famitsu and 4Gamer.net have gone up with their annual year-end articles, where over 100 game creators have shared messages, aspirations, and teasers for what is to come in 2020.
Editor's Note: There is quite a bit of overlap between the two articles. Famitsu's article was published a bit earlier than 4Gamer.net's, and we had already gone through most of Famitsu's article by the time the latter came out, so this summary is mainly based on Famitsu. Any notably different statements in 4Gamer.net's article are mentioned in the section below the Famitsu summary.
Get the roundup of newsworthy bits below.
Famitsu

Idea Factory: Norihisa Kochiwa

"Thanks to you, the Neptunia series will celebrate its 10th anniversary in 2020. We're working hard on the development of VVVtunia and e-Ninja Neptunia in hopes to please the fans, so please look forward to them!"

Atlus: Shinjiro Takata

"We will deliver more news on the long-awaited Shin Megami Tensei V, so please look forward to it."

Atlus: Katsura Hashino

"We're challenging a new RPG at the studio we started several years ago. In my previous title Persona 5, I think we were able to deliver the fun of an Atlus RPG to users around the world, but what can we create if we commit our efforts to a fantasy RPG? I hope to be able to make an official announcement soon."

Atlus: Kazuhisa Wada

"I am valuing and taking one step at a time towards the 25th anniversary of Persona approaching in 2021."

Kadokawa Games: Yoshimi Yasuda

"In 2020, we hope to develop a space and mecha-themed title(s) for several platforms. The latest Metal Max and LoveR titles, as well as Root Film will also appear. After that, we may announce an unannounced title currently in the works for new platform(s). It will depend on how far along development is, but please look forward to it."

Koei Tecmo Games: Akihiro Suzuki

"2019 was a year where I was unable to report any new information, so I apologize. 2020 is an important year in which Dynasty Warriors will celebrate its 20th anniversary. Many plans will be put into effect to please the fans, including 20th anniversary event(s) and the announcement of new game-related information."

Koei Tecmo Games: Yosuke Hayashi

"Nioh 2 will launch in March 2020, but other titles will also be announced. A new generation will start with the release of PlayStation 5. We hope to deliver new games suitable for such a generation."

Konami: Hiroshi Tanibuchi

"We are preparing various new things for the Powerful Pro and Pro Spirits series, so please look forward to them."

JP Games: Hajime Tabata

"The official Paralympic game must be released by next year's Tokyo Olympics. We're currently working hard on development while cooperating with many para athletes and people in the industry. We have also started preparations for a new project. Starting next year, our team will also get bigger." Tabata's keyword for the year is "AAA."

Square Enix: Akitoshi Kawazu

"The SaGa series is finally 30 years old… Starting with the Romancing SaGa Orchestra in February, which we're doing as a 30th anniversary event, we're planning various game and non-game related things, so please look forward to them."

Square Enix: Yosuke Saito

"Babylon's Fall, which recently had a new trailer, will begin full-scale promotion. Various things and unannounced title(s) are simultaneously in the works for NieR's 10th anniversary, which will be announced at the proper timing. Please look forward to them!"

Square Enix: Naoki Yoshida

"With new hardware announced, it will be the start of a new generation for the games industry. I hope to challenge that milestone with the full effort of the Third Development Division."

Sega Games: Hiroyuki Sakamoto

"We are making various preparations for 2020, so it will be a year of new challenges for Ryu Ga Gotoku Studios."

B.B. Studio: Takanobu Terada

"A year later in 2021 will be the 30th anniversary of the Super Robot Wars series, so one way or another I will be busy."

Nippon Ichi Software: Souhei Niikawa

"Over the last few years, we have been focused on the development of new titles. As the next step, we want to focus our effort on sequels that thoughtfully echo the voices of the fans… We're paying attention to new platforms such as PlayStation 5. We want to make preparations to release a title [for the platform] as early as possible."

Bukkoro: Yoko Taro

"2020 is the 10th anniversary of the NieR series, which I directed, and will be full of various events… In other words, there are many deadlines. In many ways, I may have already reached my limit for next year. Or rather, I have reached my limit."

PlatinumGames: Atsushi Inaba

"I think this will be a year where we can compete as a studio to truly be able to stand on our own. We're working hard to be able to deliver the games we create with our own hands, to our fans by our own hands."

PlatinumGames: Hideki Kamiya

"2020 will definitely be a year of change for Platinum, but it's super secret, so I can't say anything."

FuRyu: Fuyuki Hayashi

"It will be a year we devote to the development of FuRyu original title(s) due out in 2021 and beyond."

Level-5: Akihiro Hino

"While I can't share any details yet, we plan on trying something new outside of games, anime, and movies, so please look forward to it."

4Gamer.net

Inti Creates: Takuya Aizu

"In 2020, Inti Creates will celebrate its 25th anniversary starting May 8. The first half of the year will be a bit of a breather, but we hope to release about two digital-only titles sometime after May 8. And while also keeping the restart of that silly game (Editor's Note: Gal Gun?) in mind, I will massage the vice president's shoulders everyday to get our 'flagship' title moving."

Experience: Hajime Chikami

"In 2020, we will finally release the long-delayed Yomi wo Saku Hana. We're also making preparations to develop a title that is not a dungeon RPG, but we don't have enough manpower… we're recruiting staff!"

Bonus: Here is a new screenshot:

Square Enix: Akitoshi Kawazu

"It's the 30th anniversary of the SaGa series, so various preparations are underway. Since we have to make a number of adjustments both internally and externally, I unfortunately can't share any information. A new title in being prepared, but I'm not sure when we will be able to report its progress. I apologize. Please wait patiently for the new title."

Sony Interactive Entertainment: Shuhei Yoshida

"In 2020, I will start my new work supporting independent developers. I have always loved indie games and virtual reality experiences, and am looking forward to interacting with indie developers around the world, but as my official job from here on, I would like to work with the members of each department to figure out how Sony Interactive Entertainment can provide better support than ever before."

Toybox Games: Tomio Kanazawa

"The sequel to World End Syndrome is called World End Phenomenon."

Bandai Namco Entertainment: Katsuhiro Harada

"In 2020, titles that we have prepared, as well as still unannounced titles will certainly release. (No, not fighting games.) But personally, I want to get ready to work on something new and big, I want to dive in again… making games is truly fun."

PlatinumGames: Atsushi Inaba

"We will release a lot of news in 2020!"

PlatinumGames: Hideki Kamiya

"What Inaba said. (Probably. I haven't read it.)"

White Owls: Hidetaka "Swery" Suehiro

"We've already announced Deadly Premonition 2: A Blessing in Disguise and The Good Life, but we are also preparing unannounced titles. Also… I'm steadily progressing on building the foundation for Hotel Barcelona, which I recently announced with Suda 51."

MAGES.: Makoto Asada

"After several years, next year we will release two titles in collaboration with outside companies, which I am 100 percent involved in. I'm making titles that are completely different from our company's previous adventure titles, so please look forward to them."