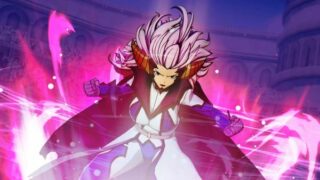 Publisher Koei Tecmo and developer Gust have updated the official website for the Fairy Tail game with new information and screenshots featuring newly confirmed playable characters Laxus Dreyar, Mirajane Strauss, and Jellal Fernandes, as well as the communication gameplay system.
Get the details below.
■ Characters

Laxus Dreyar (voiced by Katsuyuki Konishi)

Mirajane Strauss (voiced by Ryouko Ono)

Jellal Fernandes (voiced by Daisuke Namikawa)

■ Communication

In the Fairy Tail game, players can experience dream interactions between characters that go beyond the boundaries of guild through original episodes that only appear in the game.

Character Stories

In addition to the main story, there are also individual original stories that depict communication between characters. By clearing these stories, their "Character Rank" will rise and they will learn new skills to use in battle.

—Erza receives an anonymous letter that reads, "There is something important we need to talk about, so I want you to come to the forest alone." But it was Minerva who awaited her.

—The harvest festival is held once a year in Magnolia. Laxus gets duped by Mirajane into helping prepare for the festival.

—Sherria comes to the Fairy Tail guild looking for a story about "love." By talking to Juvia, she can hear all about her love for Gray.

—Sting and Rogue are in an argument, and decide on a contest to see who can fulfill a request first. As a result, Sting teams up with Natsu and Rogue teams up with Gajeel.

—In the background of the quarreling Sting and Rogue, the Panther Lily and friends are having a friendly chat.

Bond Conversations

The bonds between comrades who fought in the same party will gradually deepen, and by doing so, "Bond Conversations" will occur, allowing players to see game original conversations. These are episodes that you can only see in the game that go beyond the boundaries of guild in character communication.

—Ichiya, who has his eyes on scouting Gray, invites him to the Blue Pegasus guild.

—Juvia takes notice of Mirajane, who has work trouble, and offers to help, but then tries to escape after hearing what it is.

—Speaking to the Laxus the Dragon Slayer, who does not have a cat, Gajeel stresses the wonder and cuteness of cats… the Exceed.
Fairy Tail is due out on March 19, 2020 for PC via Steam worldwide and PlayStation 4 and Switch in Europe and Japan, and for PlayStation 4 and Switch on March 20 in North America.
View the screenshots at the gallery.