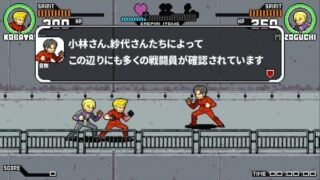 Arc System Works has announced Stay Cool, Kobayashi-san!: A River City Ransom Story, the latest entry in the Kunio-kun series for PlayStation 4, Xbox One, Switch, and PC (Steam). It will launch this fall.
Stay Cool, Kobayashi-san!: A River City Ransom Story is a collaboration between Nekketsu Kouha Kunio-kun's Yoshihisa Kishimoto and Downtown Nekketsu Monogatari's Moqeqe Sekimooto. It is a spin-off starring Kunio's long-time rival Masao Kobayashi that will depict stories previously untold about the character. Here is an outline of the story:
A story set shortly after Downtown Nekketsu Monogatari…

At Reihou Academy were the "Reuhou Big Four" feared by nearby schools. The man that reigns at the top of that group is Masao Kobayashi. But there was another side to him…

After a "certain incident" when he was in middle school, Kobayashi met a young man named Kouki Mizoguchi. Mizoguchi is a man of mystery chasing down an "evil organization."

Mizoguchi, who noticed a glimpse of a "certain power" within Kobayashi, works alongside Kobayashi to destroy to evil organization.

One day, Kobayashi's friend is kidnapped by the evil organization. Kobayashi plays it cool, but inside he was enraged…

To save his friend and destroy the organization, Kobayashi will fight against the evil organization.
View the first screenshots at the gallery. Visit the teaser website here. Further details will be announced at a later date.