Yakuza: Like a Dragon chief producer further details "Live Command RPG Battle" system
New details shared in a series of tweets.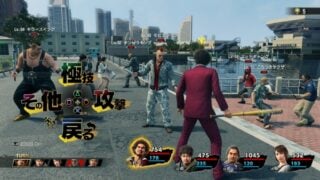 Yakuza: Like a Dragon (Yakuza 7) chief producer Masayoshi Yokoyama shared additional information on the newly announced sequel's "Live Command RPG Battle" system—a major change of course for the action brawler series—in a thread of tweets today.
Here are the words from Yokoyama himself:
#1: Yakuza: Like a Dragon. The media should be publishing detailed articles about the battle system later on, but I'll explain the points I discussed yesterday here.

#2: "Live Command RPG Battle" means battles through command execution where the fight is constantly in motion. In a standard RPG, enemies and party members are stationary, and their actions only playback by executing commands such as "Attack." But in Yakuza: Like a Dragon, battles are different.

#3: To be specific, this is a battle system where "characters move in real time" and "fight in a living city."

#4: Except for some bosses, when you encounter an enemy, the battle will begin from right where you're standing. In other words, depending on how you encounter the enemy, your starting position in the battle will change, which can both give you the upper hand or land you in a pinch. (Some enemies may also suddenly appear from hiding.)

#5: When you enter battle, enemies, party members, and even the "city" will remain in motion. They don't stop moving. Characters will turn towards nearby enemies and keep their distance. And naturally, since these battles take place in the city, characters will fall if they bump into things like street signs or bicycles.

#6: Everything moves according to the physics of the Dragon Engine developed by Ryu Ga Gotoku Studio. Through this, the "objects" that exist on the battlefield, such as bicycles, can be used as weapons or obstacles like in the action-based battles of previous games.

#7: Turn order is determined by parameters such as a character's stats, but that doesn't mean you'll get the same result by attacking just any enemy. In a situation where you attack the enemy directly (by running up to them), there is a high chance that another enemy character will interrupt your attack.

#8: The situation completely changes depending on your distance from the enemy character you're attacking, as well as the "city objects" in the area. If a bicycle or something similar rolls by, you can kick it at the enemy, or pick it up and attack with it. This action also depends on the character's class and traits.

#9: Even enemy characters outside of those you are trying to attack may become the target of an attack or interference. For example, when you run up to a distant enemy to attack, there is a high chance of you being interrupted by another enemies in the run-up. On the other hand, depending on the technique, you can attack several enemies at once through attacks that sweep and ranged attacks.

#10: In a situation where you are blown onto the road and the like due to the impact of an attack, you may get hit by a car passing by. Naturally, you will take damage. Basically, this system is called "Live Command RPG Battle" because you fight in a space where the people and city are constantly in motion.

#11: Depending on the technique, there are some action-like operations such as repeatedly pressing a button to match the action during an attack. There is an "Auto" mode for people who want to play without worry, which automatically chooses actions based on each character's class and traits. (However, this feature may not always act as expected.)

#12: Everything utilizes the real-time physics of the Dragon Engine we've built up with previous entries in the series, and no battle situation is the same. The stronger the enemy, the smarter they are, so if you find yourself in a pinch, you have various options including retreating behind other characters.

#13: In yesterday's (August 29) announcement, we were only able to share some basic information about the battle system. Since you can change classes at Hello Work, there are variations to techniques unlike anything before, as well as various other unannounced special moves.

#14: Everyone on the team is working hard to have everyone experience this "Live Command RPG Battle" for themselves at Tokyo Game Show 2019 starting September 12! If you are attending, please stop by and play! If you are not attending, we will work hard to share information through forms such as video.
Yakuza: Like a Dragon is due out for PlayStation 4 on January 16, 2020 in Japan, and in 2020 in the Americas and Europe.