The Vanishing of Ethan Carter coming to Switch on August 15
2014-released horror adventure game adds another platform.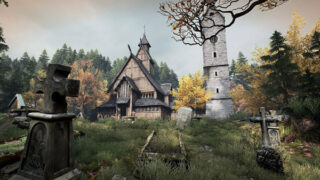 The Vanishing of Ethan Carter is coming to Switch on August 15, developer The Astronauts announced.
The horror adventure game first launched for PC in September 2014, followed by PlayStation 4 in July 2015 and Xbox One in January 2018.
"It's always exciting to do something for the first time, so we can't wait to hear from the players," said The Astronauts co-founder Adrian Chmielarz in a press release. "Switch is a completely different platform from the previous Nintendo consoles and it seems to get along well with The Vanishing of Ethan Carter. Never before has touring Red Creek Valley under a blanket been so comfortable. And unsettling."
The Astronauts lead tech artist Andrzej Poznanski added, "Moving to Unreal Engine's new version was a challenge and many parts of the codes were written from the scratch, but it was worth it. Nice thing about Unreal Engine 4 is how it can scale, so the engine works great on Nintendo Switch."
Here is an overview of the game, via The Astronauts:
Inspired by the weird fiction (and other tales of the macabre) from the early twentieth century, the game aims to significantly evolve immersive storytelling in games. While it features a private detective and quite a few mental challenges, it is not a particularly puzzle-driven game. Its main focus is on atmosphere, mood, and the essential humanity of the characters.

This is also the first game ever made and released on a Nintendo platform by Adrian Chmielarz, The Astronauts' co-founder and a designer of games such as Painkiller, Bulletstorm, and Gears of War: Judgment.

You play the game as Paul Prospero, an occult-minded detective who receives a disturbing letter from Ethan Carter. Realizing the boy is in grave danger, Paul arrives at Ethan's home in Red Creek Valley, where things turn out to be even worse than he imagined. Ethan has vanished in the wake of a brutal murder, which Paul quickly discovers might not be the only local murder worth looking into.

Still, the mysteries won't solve themselves. Using both Paul's supernatural skill of being able to communicate with the dead, and your own powers of observation, you will discover the mystery behind a trail of corpses, the roots of a dark ancient force lurking in Red Creek Valley, and the fate of a missing boy.

Nintendo Switch version was developed by The Astronauts and SPIN Software.

Players may also notice a bigger font, which makes reading easier in the handheld mode.