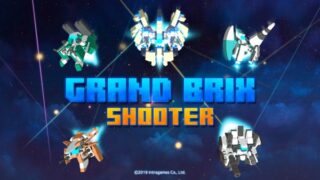 Publisher Intragames has announced in-house-developed arcade shoot 'em up Grand Prix Shooter for Switch and PC (Steam). It will launch on August 29 with support for English, French, Italian, German, Spanish, Russian, Korean, Chinese (both Simplified and Traditional), and Japanese text options.
Here is an overview of the game, via Intragames:
About

Grand Brix Shooter is a bullet-hell fusion shooter to survive from the waves of enemy's attack. It shows great characteristics of arcade game feature which highlights in bullet patterns with delicate control. It also has a special feature, "the Fusion System," the original unit combines randomly-appearing aircrafts. This feature would require strategies as well as luck to all the players.

There are 10-plus playable aircrafts with its own unique skills. In addition, crystals can be obtained after destroying the enemy and this helps the player to upgrade the player's aircraft attack skill up to level 3. Once the unit is powered up, the overall performance and the appearance are enhanced giving players higher chances to survive on the stage. Secret units with massive power can be unlocked through achieving the quests and this makes easier to win the colossal bosses.

Key Features

Fusion system lets you combine with randomly-appearing aircrafts.
Upgrade system lets you collect experience points to power up your aircraft.
Strategic elements – change crafts at the right time to survive the waves of bullets.
Secret units with massive power are hidden.
Challenge Mode lets you compete with friends for high scores.
Online leaderboard encourages you to step up your game.
Watch the announcement trailer below. View a set of screenshots at the gallery.