Persona 5 Royal 'Morgana's Report #3' video
Latest report discusses new battle elements and Kichijoji area.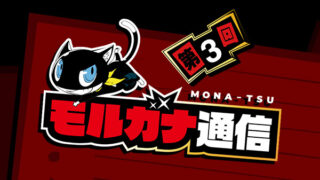 Atlus has released the third Persona 5 Royal "Morgana's Report" news delivery video.
Morgana's Report #3 introduces new battle elements and the new Kichijoji area. Here is a summary of the report:
By deepening the bonds between members of the Phantom Thieves, you can unlock a powerful and flashy combination technique called "Show Time."
"Traits" that exhibit special effects have been added to each Persona. There are various types of Traits, which can even be carried over during fusion to create powerful Personas.
Special accessories that, when equipped, enable the use of a specific skill during battle them have been added.
"Baton Touch," which allows you to pass your turn to another party member by hitting the enemy with their weakness, has also been powered-up. By playing Darts with the party and deepening your bonds, your Baton Touch rank will increase, which can manifest various effects such as higher attack power or SP recovery during a Baton Touch.
You can utilize various facilities in the new Kichijoji area. By using the Darts, Billiards, Jazz Club, Temple, and other facilities available in Kichijoji, you can deepen the bonds between party members and self-improve. There are various effects depending on the facility, such as your Baton Touch rank increasing, your Persona abilities strengthening, or your maximum SP increasing.
Kichijoji is also home to unique shops. At the "Rag Shop," you can trade-in the armor you obtained in palaces and Mementos for money. And by saving up trade-in points, you may be able to exchange them for something good.
In response to a user question about whether the original story of Persona 5 will see major changes due to the new elements added to Persona 5 Royal, Morgana said, "In Persona 5 Royal, while taking care to preserve the main story of Persona 5 without modification, an episode untold in Persona 5 will unfold."
Morgana's Report #4 will be released in August.
Persona 5 Royal is due out for PlayStation 4 on October 31 in Japan, and in 2020 in the west. Read more about the game here.
Watch Morgana's Report #3 below.
Morgana's Report #3
New Battle Elements Segment Only
New Area Kichijoji Segment Only