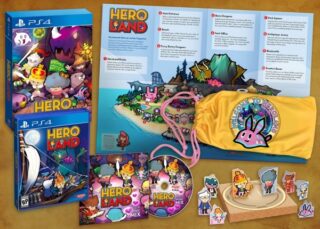 XSEED Games has announced a day one physical "Knowble Edition" for Heroland in North America. It will cost $49.99 and be the only retail version available at launch, while the digital standalone edition will sell for $39.99.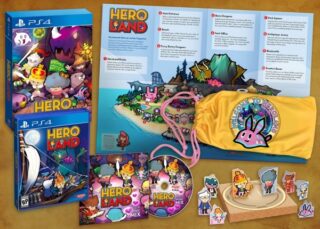 The Knowble Edition includes:
Physical copy of Heroland
10.5" x 6" drawstring pouch
Musical Selections CD
14" x 20" theme park-style folded map
Sumo wrestling papercraft
Heroland is due out for PlayStation 4 and Switch this fall in North America. Here is an overview of the game, via XSEED Games:
Welcome to Heroland—a bright, tropical theme park resort where guests partake in an authentic RPG-styled adventure, exploring dungeons, beating up baddies, and become a legendary hero! Unfortunately, the role-playing becomes reality when Lucky, an unexceptional part-time tour guide, and his guests including Elric, the spoiled, fallen prince of the Knowble Kingdom, unintentionally begin unraveling Heroland's dark history. Now it's up to Lucky, Elric and a ragtag team of tourists-turned-heroes to save Heroland (and the world!).

Heroland is directed by Takahiro Yamane (Fantasy Life), written by Nobuyuki Inoue (Mother 3, Legend of Mana), taking place in a colorful 2D world created by Nobuhiro Imagawa (Mother 3, Legend of Mana), and jam-packed with Tsukasa Masuko's (Shin Megami Tensei) whimsical tunes. The esteemed team brings an unforgettable adventure filled with unique heroes including overzealous knights, high school girls, pretentious princes and a nihilistic otter (or is he human?!). And no adventure set in a theme park would be compete without a curious cast of monsters including cute little slugs, selfie-loving skeletons and man-eating broccoli— who also happen to be co-workers.
View high-resolution versions of the Knowble Edition images at the gallery.