Falcom teases modern ports of The Legend of Heroes: Zero no Kiseki and Ao no Kiseki
A possible western release, as well.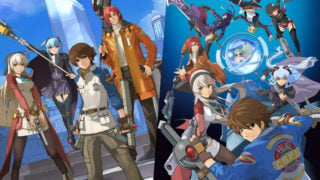 After teasing PlayStation 4 ports of previous Trails series titles earlier this month, Falcom president Toshihiro Kondo has taken it a step further in an interview with Easy Allies teasing that they are working to make The Legend of Heroes: Zero no Kiseki and The Legend of Heroes: Ao no Kiseki playable on modern console(s).
Here is the interview segment:
Easy Allies: I know you get this question a lot, so this is not going to be a new one for you, but I know a lot of very passionate Legend of Heroes fans would love to play the Crossbell games (The Legend of Heroes: Zero no Kiseki and The Legend of Heroes: Ao no Kiseki). Is there any chance of getting an official localization that people could enjoy?

Kondo: "The thing about both of those games is that they were originally developed for PSP in Japan, and then later on they received what's called the Evolution versions of them in Japan, but the point is is that they're no longer able to be played on modern console(s). So what we want to do as a company—what we're actually starting to prepare for—is to be able to bring both of those games to modern console(s). So right now it's still in the very early stages and there's not much to be said about it, but as we do this and as those plans become a little bit more solidified, we would like to absolutely start talks with foreign publishers and things, and get that conversation going to bring these games finally out to fans here in the west."
The Legend of Heroes: Zero no Kiseki first launched for PSP in Japan in September 2010 and The Legend of Heroes: Ao no Kiseki in September 2011. Enhanced versions, The Legend of Heroes: Zero no Kiseki Evolution and The Legend of Heroes: Ao no Kiseki Evolution, launched for PS Vita in Japan in October 2012 and June 2014, respectively.
Kondo was also asked about next-generation consoles:
Easy Allies: I would say, just taking a look at this generation, Falcom has had a very successful generation with with games that have really been beloved by fans. And we're hearing talks of new consoles, and those are right around the corner. So as the president of this company, what's your mindset going into the next generation of consoles? What ideas do you have? Or what goals do you want to tackle?

Kondo: "As a matter of fact we don't have a lot of information yet on our side about the new hardware that's coming out, but what I can say is that what won't change going forward is what we consider the identity of these titles to be. So to talk about the Trails series, specifically we're looking at again a very story-focused game, characters that you care about in a world that you kind of want to lose yourself in. And then on the other side of that equation you've got a game like Ys, which is very action-focused, and we want to really continue to bring that really good solid action to people. I want to make Ys, generally speaking, that aspect of it comes first and then the story and the setting and things flow from there. Once we do get some more information about this new hardware, obviously we'll begin to think carefully about what we can do with it what new challenges we can have for ourselves with it, and how we can evolve these series and move them forward. But that core identity of those games that we make that I just talked about—that's not going to change going forward."
The latest English entry in the Trails series, The Legend of Heroes: Trails of Cold Steel III, is due out for PlayStation 4 on September 24 in North America and September 27 in Europe.