Dragon Quest XI character Erik-related announcement set for Dragon Quest Summer Festival 2019 on August 3
New Dragon Quest Monsters title to finally be revealed?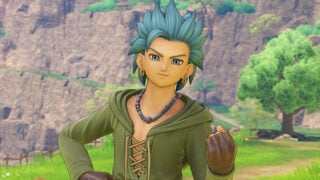 Dragon Quest XI: Echoes of an Elusive Age character Erik is already getting his own one-shot manga in August with Hiro Mashima's Dragon Quest XI S: The Special Starting Book, but it appears Square Enix has a further announcement in relation to the character planned for Dragon Quest Summer Festival 2019 at Ariake TFT Hall in Tokyo on August 3, according to the latest issue of V-Jump.
While further information concerning the announcement is unknown, it is worth reminding that Square Enix shared artwork of a new Dragon Quest Monsters title in development for console back in November 2018, which appeared to show a young Erik and his sister Mia as the lead characters. (Though while the characters are clearly Erik and Mia, they were only introduced as a certain boy and girl.) That being said, it is possible the new Dragon Quest Monsters title will be officially announced at the event.
Thanks, Ryokutya2089.