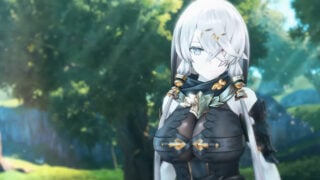 The latest issue of Dengeki PlayStation has new information on Atelier Ryza: Ever Darkness & the Secret Hideout, including the reveal of three new characters, a new synthesis system, and more on the previously teased Gathering Point Synthesis system.
Here are the details:
Characters
Lila Decyrus (voiced by Haruka Terui) – A mysterious female warrior with a calm, cool, and collected atmosphere, who is investigating Kurken Island with Empel for a certain purpose. She teaches Ryza and friends how to fight. She wields a pair of long talons in battle and fights alongside Ryza and friends as a party member.
Kilo Shiness (voiced by Shiori Mikami) – A spirit user who fights alone for something important. You will run into Kilo in unexpected places.
Agatha Harmon (voiced by Masumi Asano) – The popular leader of the guardians that protect Rasenboden Village, who watches over Ryza and friends.
New Synthesis System: "Linkage Synthesis"
There are different trees for each recipe. Even the same tree can have a different outcome depending on the route. There is also automatic synthesis.
"Item Rebuild" re-synthesizes items you have previously used. Materials can also be synthesized from the where you left off in the trees of previously synthesized items.
Gathering Point Synthesis
Create entire fields. Synthesize using bottles. By adding more materials, the appearance and the items you can collect will change.
Atelier Ryza: Ever Darkness & the Secret Hideout will launch for PlayStation 4 and Switch on September 26 in Japan, and for PlayStation 4, Switch, and PC via Steam on October 29 in North America and November 1 in Europe.
Thanks, Ryokutya2089 and Games Talk.