A-Train Express+ announced for PS4
New content available as paid expansion for the original game.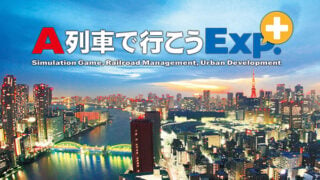 Artdink has announced A-Train Express+, an upgraded version of the 2017-released city development and railroad simulation game for PlayStation 4. It will launch on November 14 in Japan for 7,800 yen. On the same day, Artdink will release a "+Version Up Kit" add-on for the original A-Train Express, which adds the new content of A-Train Express+, for 3,200 yen. First-print copies of the physical edition of A-Train Express+ will include a 24-page support guide.
A-Train Express+ adds new "Turntable and Locomotive Turning" and "Train Connecting and Disconnecting" features, as well as additional buildings, stations, vehicles, and scenarios. Save data from the original A-Train Express can be used as is with A-Train Express+.
Previously, when a train arrived at the terminal station, it would loop back as is and depart facing the opposite direction, lowering its speed, but with the new turntable feature, the lead vehicle will always rotate to operate in a forward-facing direction through locomotive turning.
As for train connecting and disconnecting, it was previously impossible to change the number of train cars while running, and players had to operate individual trains to provide efficient service depending on the number of passengers in the region. This time however, trains can run as a single long train in areas with many passengers, and split into separate trains in areas with less, allowing a more efficient operation.
Watch the opening movie below. View a set of screenshots at the gallery. Visit the official website here.