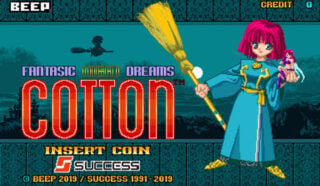 BEEP, the video game sales division of Japanese company Sangatu Usagi no Mori, has established a publishing division and announced a reboot of the 1991-released, Success-developed arcade shoot 'em up Cotton as its first project. Tentatively titled Cotton Reboot, it will be released for PlayStation 4, Switch, and PC via Steam. Release date and price were not announced.
Cotton Reboot is based on the X68000 version of Cotton, which was brushed up from the original arcade release. While it adds a new "Arrange Mode" suited to current hardware specifications, it also includes the original version of the game.
In addition to the reboot version, BEEP also announced plans to re-release the X68000 version of Cotton as a physical floppy disk for the platform this summer.
Here is an overview of the original Cotton, via MobyGames:
Cotton is a 2D side-scrolling shooter in which the player takes the role of the young witch Cotton, who sets out on her magical broom on a quest to get her favorite candy. Fortunately for us her obsession gets her in the way of several world-threatening terrors that she must destroy in standard shooter fare.

The game features an experience-earning system in which the more enemies the player kills the more he can upgrade his weapon by collecting power crystals. Players can also charge their weapon for special attacks and enlist the aid of Silk, Cotton's magical fairy friend who can form up in different "option" configurations.
View a set of screenshots at the gallery. Visit the Cotton series 40th anniversary website here and Cotton Reboot official website here.
Thanks, Famitsu.