Yakuza command-based RPG battle April Fools' Day video [Update: Direct-feed]
A Play Spot in the new Yakuza?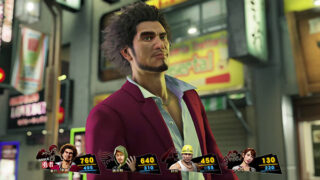 Original 03/31/19 at 11:47 a.m.: The official YouTube account for Ryu Ga Gotoku Studio has uploaded a new video titled "ryu_new_0401" showing footage of what appears to be a command-based RPG battle in a Yakuza game.
While the footage, as Japanese media points out, would appear to indicate that the next Yakuza game is a command-based RPG, today is April Fools' Day in Japan, meaning that this information is likely false. The footage, however, is new and features Ichiban Kasuga, so it is possible that these command-based battles will appear in the new Yakuza game starring Ichiban Kasuga as a Play Spot / mini-game.
Yakuza series general director Toshihiro Nagoshi said at Sega Fes 2019 this weekend that he would "like to change [the next Yakuza game] drastically."
The new Yakuza game starring Ichiban Kasuga will be released for PlayStation 4. A release date has yet to be announced.
Watch the footage below.
https://www.youtube.com/watch?v=BDkWKDg7Px8
Update 04/01/19 at 11:35 p.m.: Sega has released a direct-feed version of the video. The description of the video reads, "This is Ryu Ga Gotoku Studio's April Fools' Day special video. Did you enjoy Ryu Ga Gotoku Studio's April Fools' Day project? After many requests, we have released the movie used in the video, so please have a look. (This video will only be available until April 8.)"
The post title and content have also been updated as not to mislead readers into thinking this is confirmed footage of the new Yakuza game starring Ichiban Kasuga.