Persona 5 S teaser website launched
"1 More Information" incoming on April 25.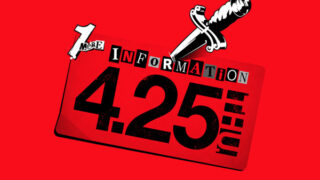 Atlus has launched a new teaser website at P5S.jp, teasing "1 More Information" for release on April 25.
The source code of the website features the following hidden calling card:
Calling Card

April 25, 2019.

We will show you a new Phantom Thieves that will turn the world's cognition on its head.

We are energized by voices that seek satisfaction.

Once again, we will take your heart at the Ryougoku Kokugikan.

—From the Phantom Thieves.
April 25 is the second day of the "Persona Super Live P-Sound Street 2019: Welcome to No. Q Theater!" concert at the Ryougoku Kokugikan in Tokyo.
After an initial tease in December 2018, Atlus officially announced Persona 5: The Royal for PlayStation 4 in March via a 30-second commercial. More information on that will be announced on April 24—the first day of the concert.