Capcom Home Arcade plug-and-play device announced
Featuring 16 games and due out in October.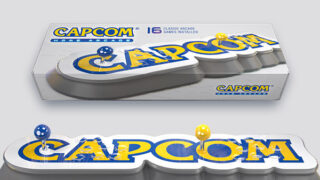 Capcom has announced Capcom Home Arcade, a plug-and-play device featuring 16 classic Capcom arcade games due out on October 25 in Europe for €229.99. Details on the North American release will be announced "soon." Pre-orders are available now via Capcom Store Europe, with more retailers to be announced.
Here are the details, via its official website:
Celebrating a True Champion of Arcade Gaming

Emblazoned with Capcom's iconic duotone logo the Capcom Home Arcade delivers a classic single and multiplayer arcade gaming experience.

Featuring 16 of the best Capcom titles from the golden-age of arcade gaming, the two full-size premium stick and button configurations allow these games to be played the way they were meant to be played.

Authentic Gaming

Featuring a pair of competition class Sanwa JLF-TP-8YT sticks with 8-way GT-Y directional gates and OBSF buttons for the finest precision, response times and durability.

The 16 pre-installed games are from the original Capcom CPS1 and CPS2 arcade ROMs with emulation provided by FB Alpha, delivering an authentic & accurate arcade experience exclusively for the Capcom Home Arcade.

Play, Compete, Cooperate

Break some high scores in single player, team up with a friend in co-op multiplayer or destroy them in a head-to-head battle. Then upload your best scores via the Capcom Home Arcade's onboard WiFi to a Worldwide High Score Leaderboard to see how you match up against other players across the globe.

Featuring 16 Classic Capcom Arcade Titles

1944: The Loop Master
Alien vs. Predator
Armored Warriors
Capcom Sports Club
Captain Commando
Cyberbots: Fullmetal Madness
Darkstalkers: The Night Warriors
ECO Fighters
Final Fight
Ghouls 'n Ghosts
Giga Wing
Meta Man: The Power Battle
Progear
Street Fighter II: Hyper Fighting
Strider
Super Puzzle Fighter II: Turbo

How it Works

Simply plug and play!

Connect the supplied HDMI cable from your Capcom Home Arcade to your TV, and the supplied USB cable to a USB power supply and turn on.
Watch the announcement trailer below.