A Hat in Time DLC 'Seal the Deal' coming to Switch version
Switch version release date still to be announced.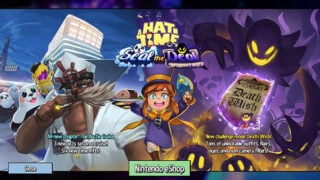 The "Seal the Deal" add-on released for the PC version of A Hat in Time in September 2018 will also be released for the upcoming Switch version, developer Gears for Breakfast announced.
The add-on has not been released for the PlayStation 4 and Xbox One versions. According to the official A Hat in Time FAQ, "due to certain circumstances we aren't able to use the same methods we used to bring the base game to Xbox One and PlayStation [in order to release the downloadable content for these versions], but we will continue to explore options."
"Seal the Deal" adds a new chapter set on the Arctic Cruise, a new difficulty mode called "Death Wish," six new Time Rifts, and over a dozen flairs, dyes, costumes, badges, and camera filters.
The Switch version of A Hat in Time has yet to be dated. The game is currently available for PlayStation 4, Xbox One, and PC.