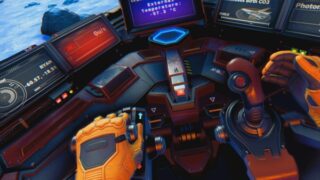 The recently announced No Man's Sky: Beyond update due out this summer will add PlayStation VR and SteamVR support to the PlayStation 4 and PC versions of the game, respectively, developer Hello Games announced.
"The team has worked so hard to make this a true virtual reality experience rather than a port," Hello Games said on a tweet (2). "No Man's Sky in virtual reality is not a separate mode. Anything that is possible in ;NEXT' or any other update is ready and waiting in VR."
No Man's Sky is available now for PlayStation 4, Xbox One, and PC.
Watch the virtual reality announcement trailer below. View a new set of screenshots at the gallery.