Google announces cloud gaming platform Stadia
Due out in 2019.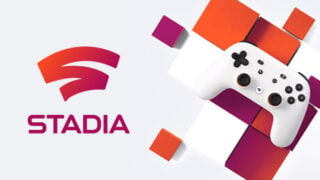 Google has announced Stadia, a cloud gaming platform / streaming service that will enable AAA games to be played across desktop, laptop, TV, tablet, and smartphone. It will launch in 2019 in the United States, Canada, United Kingdom, and most of Europe.
Here is an overview of the platform, via its official website:
The future of gaming is not a box.

Introducing Stadia, a new gaming platform from Google for playing AAA video games across all kinds of screens.

Game where you want, when you want. Play across multiple devices, including laptops, desktops, and select phones and tablets. (High speed internet connection required.)
New ways to play through YouTube and beyond. Go from watching a video to playing a game in seconds, with even more innovative experiences to come for select games.
Up to 4K HDR at 60 FPS. Enjoy gaming the way you love, with beautiful HDR graphics and smooth frame rates. (4K HDR at 60 FPS are dependent on your bandwidth. Gameplay experience may vary based on quality of internet connection.)
Play instantly. No updates, no downloads. Jump right into the game.
Always getting better. Stadia's cloud based infrastructure evolves to meet the demands of players, developers, and YouTube creators.
Here are some more details, via the Stadia development website:
Take game development further than you thought possible.

Stadia's seamless cloud gaming platform offers tremendous scale, giving you the tools to push game development to new levels.

One of the world's most powerful development platforms.

Access next-gen development tools and continually evolving custom hardware, all built on the latest open source foundation.

Built to evolve right alongside your game.

Our custom hardware will be periodically upgraded alongside the software and services, so you can focus on realizing your creative vision—not on the constraints of traditional platforms.

—Hardware Stack

Custom 2.7 GHz hyperthreaded x86 CPU with AVX2 SIMD and 9.5 MB L2+L3 cache
Custom AMD GPU with HBM2 memory and 56 compute units capable of 10.7 teraflops
16 GB of RAM with up to 484 GB/s of performance
SSD cloud storage

Next-gen software optimized for the cloud.

Stadia is built on an open source foundation and next-generation tools using Vulkan cross-platform graphics and computing APIs, so you can optimize for cloud-native gaming.

—Software Stack

Linux: Debian version of the world's most popular open-source OS.
Vulkan: Next-gen cross-platform graphics and computing API with custom layers optimized for cloud-native gaming.
Platform: Our SDK provides robust APIs for managing games, like saves, multiplayer modes, suspend/resume gameplay and more.

Powerful yet familiar dev tools.

With a powerful development toolset made from top middleware and technology partners, you'll have access to well-established tools that grow with you.

—Developer Tools

Unreal Engine: Epic Games' official support for Stadia means you'll have access to the latest technology and features of the world's most powerful creation engine.
Unity: Unity is the world's most widely used real-time 3D development platform, enabling developers to create rich, interactive experiences.
Custom tools: A suite of debugging and tuning tools help you get the most out of our platform, from fine-tuning streaming performance to diagnosing GPU crashes.
Industry tools: Current dev tools include Havok, RenderDoc, Visual Studio, LLVM, AMD RadeonTM2 GPU Profiler, IncrediBuild, UmbraTM 3, FaceFX, and Intelligent Music Systems, plus we're constantly expanding to deliver a familiar development experience.

Enabling gameplay across all device types.

The Stadia platform enables cross-screen gameplay across TVs, laptops, desktops, tablets and mobile devices using our Stadia controller, mouse and keyboard, as well as many HID-compliant game controllers.

—Input / Output

Works with existing inputs: Stadia supports standard gamepad inputs right out of the box, with no additional development needed.
Google Assistant button: The Stadia controller features a dedicated Google Assistant button that enables new engagement scenarios, such as live gameplay help, firing up a multiplayer session, sharing gameplay clips, and more.
Do more with captures: The Stadia controller's share button enables you to take screenshots that can be shared with friends, as well as capture gameplay clips and post them to YouTube at the press of a button.
All device types: A single code base works seamlessly on all kinds of connected devices, including TVs, laptops, desktops, tablets and smartphones.

Develop a New Generation of Games

Continually evolving platform: Realize your vision with seamless access to the latest software, hardware and features.
Play across connected devices: A single code base allows play on TVs, laptops, desktops, tablets, phones and more.
Low barriers to entry: Players can jump into their games with a single click, no downloading required.
Always up to date: Since games stream directly from the cloud, players always have your latest version.
Unlimited possibilities: The power of Stadia unlocks untapped potential for game design.
Stadia development kits have been sent out to more than 100 developers. A number of partners appeared alongside on stage in support of the platform, including:
2K Games – NBA 2K was used to highlight Stadia's "Crowd Play" feature
id Software – Doom Eternal was shown running on Stadia at 4K resolution and 60 frames per second
Q-Games – Working on an unannounced project built around Stadia's "State Share" feature
Square Enix – Rise of the Tomb Raider was used to highlight Stadia's Google Assistant intergration
TequilaWorks – Took the stage to demonstrate Stadia's "Style Transfer" feature
Ubisoft – Assassin's Creed Odyssey was shown running on Stadia
Additionally, Google has established Stadia Games and Entertainment, which will build games exclusively for Stadia as a first-party games studio. Stadia Games and Entertainment will also work with external developers to make all of the Google technology of Stadia is available to partner studios big and small.
Watch the Stadia announcement trailers below.
Introducing Stadia from Google
https://www.youtube.com/watch?v=AffodEEF4ho
Stadia Official Reveal
https://www.youtube.com/watch?v=HikAuH40fHc
Stadia Announcement Recap
Stadia Keynote