NIS America Press Event 2019 video presentation live stream set for March 11
NIS America Direct.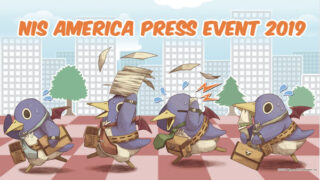 NIS America will host a video presentation live stream for its 2019 annual press event on March 11 at 9:00 a.m. PT / 12:00 p.m. ET, the company announced. It will feature messages from creators in Japan and announce new games due out as early as 2019.
The NIS America Press Event 2019 itself will be held on March 8. A preview of the presentation video, as well as hands-on access to some of NIS America's upcoming releases, will be provided to members of the press as part of the event. However, any information from the event cannot be shared until after the live stream on March 11.
Stay tuned.